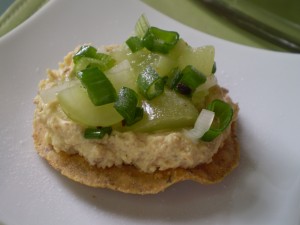 I am so excited to share this recipe, as it became one of my all-time favorite crostinis immediately upon creation.
My inspired foodie friend, Trish Pfeifer, often serves crunchy-juicy seedless green grapes and smoked almonds as an impromptu appetizer or snack.  You can't believe for how many occasions that combination is perfect, including–odd though it may sound–with coffee on a late Saturday morning.
So, last Sunday, I was craving her pairing, but I wanted to make it a little more of a "dish."  Yet I still wanted it to be ultra-easy, cooling (Sunday was hot and humid), and very pretty.
I make a vegan "cheddar"-pecan spread, so I thought that finely chopped almonds would be nice in something like a ricotta made from an extra-firm tofu base.  And I thought that it would be even nicer still if I could toss all of the ingredients in the food processor, pulse a few times, and be done.  And I could! Tthe consistency was exactly what I sought.
All that remained was the grape topping.  I decided that spring onion would complement, but not overpower, the flavor of the grapes.  Wanting the topping to be refreshing and fairly pure in taste, with just a little complexity, I decided to go with just a splash of rice wine vinegar and a bare hint of hot red pepper flakes.  The result was exactly what I was after, and the shimmering green-on-green palette with tiny flecks of red looks as refreshing as it tastes.
All I had to use for a base was falafel crackers, and they were delicious, but I have since enjoyed the toppings on Melba toasts.  Thinly sliced rounds of toasted or grilled bread would be perfect too.
After I spread a little of the vegan "ricotta" on the cracker and topped it with a mound of the salsa, I had one last flash of inspiration.  The day before, I had been at T.J. Maxx where I was seduced by a box of exquisite irregularly-shaped chunks of pearly Pink Himalayan salt.  (It is such smart merchandising to create the checkout line from display shelves lined with such goodies!)  So, a hint of the salt hand-grated over the top, using my microplane grater, was the piece de resistance.
Even without the luxury of Pink Himalayan salt, you will adore this dish.
Smoky Vegan "Ricotta" Spread
8 ounces extra-firm tofu
1 large clove garlic
1 teaspoon olive oil
1 teaspoon Bragg's Liquid Aminos
2 teaspoons light miso
2 tablespoons nutritional yeast
1/3 cup smoked almonds
sea salt and freshly ground black pepper to taste
optional: 1/4 teaspoon curry powder
Place all ingredients in the bowl of a food processor fitted with a metal blade and pulse a few times until almonds are finely chopped and all ingredients are thoroughly combined.  Scrape down the sides of the bowl as necessary.  Check for seasoning, and adjust as necessary.
Green Grape and Spring Onion Salsa
1/2 cup quartered seedless green grapes
1/4 cup thinly sliced spring onion (use about half of the white and half of the green parts)
1 teaspoon rice wine vinegar
pinch sea salt
2 pinches natural sugar
pinch of red pepper flakes
In a small non-reactive bowl, combine all ingredients.  Check for seasoning and adjust as necessary.
Accompaniments:
Crackers, Melba toasts, or small, thinly-sliced grilled or toasted bread rounds
Optional: a finishing salt like Pink Himalayan
To serve, spread each cracker or toast with some of the "ricotta," and top it with a small mound of the salsa.  If desired, grate a little Pink Himalayan or another finishing salt over the top.  Serve immediately.  Store any leftover "ricotta" and salsa separately in airtight containers in the refrigerator.