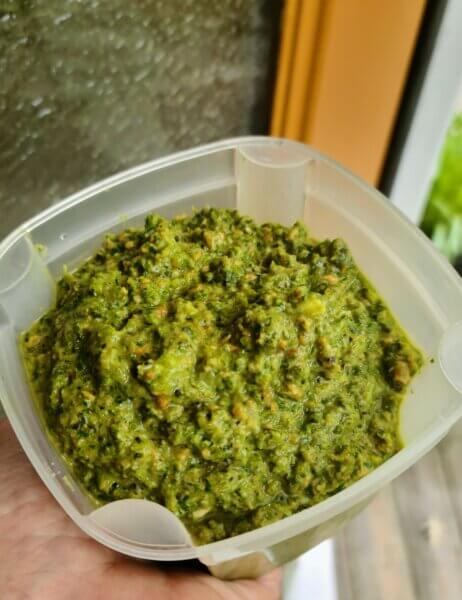 After a recent (vegan) Burger Night, we had all but 5 or 6 leaves of a head of red leaf lettuce left over. Yes, I could have made salads, but I am more of a slaw and mezze kind of gal.
I have made delicious kale pesto before and it suddenly occurred to me that lettuce is just another green and could be substituted. A stop by friends' home and stroll through their bountiful garden left me with a small handful of mostly basil. I couldn't wait to get home and whip it all into pesto for a TGIF mezze happy hour that evening with another dear friend.
It is so good, you may want to eat it as a little side dish!
Approximately 12 cups very loosely packed clean lettuce leaves, torn in half (I used all but a few, previously eaten, leaves of a head of red leaf lettuce)
1 very loosely packed cup basil leaves or mixed herbs or same amount lettuce leaves
3/4 cup roasted and salted sunflower seeds or pine nuts (I can rarely find the pine nuts in our grocery
3 large cloves garlic, peeled and halved
1/4 cup olive oil
Juice of 1 medium lime or lemon (start with a half and taste)
Sea salt and freshly ground black pepper to taste
Optional: 2 to 4 tablespoons vegan parmesan (I like Follow Your Heart, but didn't use any in this recipe)
Place all ingredients in bowl of food processor and process until smooth, scraping down sides of bowl as necessary. Store in airtight container in refrigerator.
#vegan #veganrecipes #veganfoodshare #veganfoodporn #plantbased #plantbasedrecipes #plantbasedfoodshare #plantbasedfoodporn #vegansofinstagram #vegansoffacebook #vegansofvirginia #plantbasedpesto #veganpesto