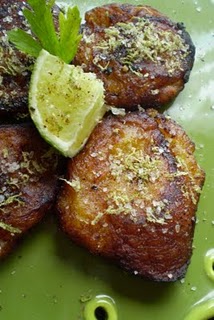 Yield: 2-4 servings
I'm not quite sure why I got a taste for tostones with a coarse citrusy spiced salt, but I did and what I concocted is indeed tasty. Typically served as a Puerto Rican side dish with black beans and yellow rice, tostones are also quite good on their own as an appetizer. Their crispy golden crust encases a creamy and subtlely sweet interior that is perfectly balanced by the zing of my zesty salt.
Spicy Lime Sea Salt:
1 tablespoon coarse sea salt
a few grinds of fresh black pepper
1/4 teaspoon garlic powder
1 pinch ancho chili powder (or your favorite variety–not too spicy unless you're looking to heat things up)
1 pinch ground allspice
1 pinch ground cumin
1 pinch ground coriander
1 pinch ground curry powder
zest of one-half of a fresh lime
Using your fingers, lightly combine all ingredients in a small bowl or cup. Feel free to substitute any herbs and spices you like. Hold them together under your nose and whiff. If the aroma is appealing, they will probably be tasty together.
Tostones:
approximately 2 cups of canola oil (enough to reach 1/2-inch in large cast iron skillet)
2 plantains, peeled and sliced on the slight bias (diagonal) into 1-inch pieces
Optional Garnish: lime wedges or slices and sprigs of fresh cilantro
Heat oil in a large cast iron skillet over medium-high until a drop of water sputters. If it begins to smoke, it is too hot. Remove from heat and allow to cool down for a couple of minutes before continuing, as the high sugar content of plantains makes them susceptible to burning.
Place plantains into the oil and cook until LIGHTLY golden in color on both sides, approximately a minute on each side. Remove slices from skillet and drain on paper towels. Place each slice between two pieces of waxed paper and, being careful not to burn your hand, flatten with your palm to about 1/4″ thick. One firm press ought to do it. Return flattened slices to the skillet and continue frying until golden brown on both sides, approximately another 30 seconds to one minute per side. Remove slices from skillet, drain on paper towels and, while still warm, transfer to a serving plate(s). Sprinkle with Spicy Lime Sea Salt. (You will have extra salt for another dish.) Garnish, if desired, with slices of lime and sprigs of fresh cilantro. Serve warm or room temperature.