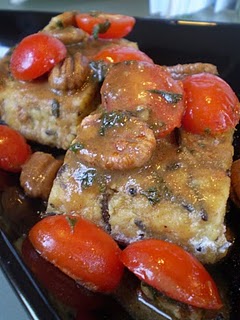 Yield: 2 lunch/brunch servings or 2 dinner servings with a side dish or salad
I am working with a personal trainer on Saturdays to achieve some specific results in about 5 weeks in preparation for an upcoming event. (More on this later!) In addition to cutting some calories to lose about 4 lbs., he wants me to consume more protein. So, after we worked out and stretched today, I came home and whipped together this very fast–and very tasty–lunch. It is absolutely packed with protein and quite gentle on the calorie count (truth to tell, I ate the entire recipe). Plus it is pretty to look at and, because of the sauce, feels special enough to serve to guests.
For this recipe and some 170+ more,
I invite you to purchase my first cookbook:
The Blooming Platter:
A Harvest of Seasonal Vegan Recipes
Vegan Heritage Press
Spring 2011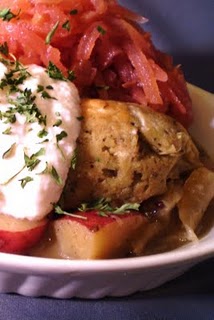 Yield 6-8 servings
A vegan Oktoberfest may sound like an oxymoron. And it's true, wienerschintzel and bratwurst aren't typically meat-free fare. But this autumn, thanks to a simple vegan sausage recipe (for those who love to cook)—or prepared vegan brats (for those who don't)—everyone, regardless of their dietary preferences, can take part in the merrymaking.
If an Oktoberfest celebration is not your style, this meal nonetheless makes a tasty, healthy and hearty—but not heavy—cool weather supper. Spicy white bean-based sausages are nestled into a braise of onions, cabbage, potatoes and apples before being topped with a dollop of sour "cream"-horseradish sauce and a tangle of red apple sauerkraut, my twist on the traditional red cabbage variety.
There is nothing purist about my take on traditional German fare, yet I pay homage to the cuisine through my combinations of ingredients. Take the sausages for instance. They are vegan cookbook author Isa Chandra Moskowitz's recipe made with my own spice mixture inspired by bratwurst and thüringer rostbratwurst.
By repeating some of the customary spices and ingredients, like coriander seeds and apples, from one component of the dish to another, I tie the flavors together while still offering plenty of harmonious contrast between tastes and textures.
Follow each recipe as-is for a satisfying four-part, one-dish Deutsch-inspired meal, or take some creative liberties of your own.
Prost!
For this recipe and some 170+ more,
I invite you to purchase my first cookbook:
The Blooming Platter:
A Harvest of Seasonal Vegan Recipes
Vegan Heritage Press
Spring 2011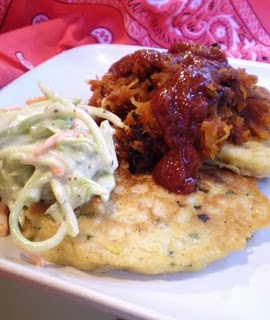 Yield: 4-8 servings (depending on how hungry you are)
My pal, Katherine Jackson, requested a veg version of pulled pork barbecue. When I told her she had me stumped (because I wasn't sure how I could shred something like seitan in a home kitchen), she suggested spaghetti squash. I thought that was a brilliant idea. And I hope you agree.
But, for me, no barbecue meal is complete without the counterpoints of crispy-creamy cole slaw and tender "buttery" corn cakes, so I added those to the mix. I think you'll love this trifecta of tastes. Here's to you, Katherine, for providing great inspiration!
Vegan "Pulled" Spaghetti Squash Barbecue
1 tablespoon olive oil
1 spaghetti squash, roasted (see recipe below)
Bloomin' Barbecue Sauce
Heat oil in a large skillet over medium-high just until simmering and carefully swirl to coat the bottom. Stir a few spoonfuls of sauce into the squash until well-coated, but not not saturated. Add squash to heated pan and gently press into one layer, filling the skillet. Cook for approximately 3-5 minutes. You want it to char just slightly in some places on the bottom but not stick and burn. Stir or loosen from bottom if necessary. Turn the squash over one spoon- or spatula-full at a time and cook for another 3-5 minutes to achieve the same light char in places. Serve with additional sauce, heated, with Vegan Cole Slaw on warm Vegan Creamed Corn Cakes. (All recipes follow.)
Spaghetti Squash
Preheat oven to 375 degrees. Oil a baking pan. Split spaghetti squash lengthwise, scoop out seeds and stringy pulp and discard (compost!). Place squash halves face down on the baking pan and roast in the center of the oven for 1 hour and 15 minutes. Remove from oven to a wire rack, let sit until cool enough to handle and then scrape flesh out of shell in a flaking motion using a fork creating "shreds."
Bloomin' Barbecue Sauce
Optional, but recommended: 1 small onion, finely diced and sauteed in a little olive oil over medium-high heat until golden and slightly caramelized
1-15 ounce can tomato puree
1 tablespoon apple cider vinegar
1 tablespoon Amino Acids
5 tablespoons sweetener (I like 1 tablespoon each of the following, but use what you have: maple syrup, molasses, brown rice syrup, brown sugar)
1 teaspoon garlic powder
1 teaspoon onion powder
1 teaspoon Sweet paprika
1 teaspoon chili powder
1 teaspoon ground coriander
1-3 teaspoons prepared mustard
pinch of coarse sea or kosher salt to taste
pinch of freshly ground black pepper to taste
a dash or two of Liquid Smoke to taste
Stir all together and heat gently until simmering. Simmer for just a few minutes to let flavors combine. Store, covered, in refrigerator.
For the Vegan Cole Slaw recipe and some 170+ more,

I invite you to purchase my first cookbook:
The Blooming Platter:

A Harvest of Seasonal Vegan Recipes
Vegan Heritage Press

Spring 2011