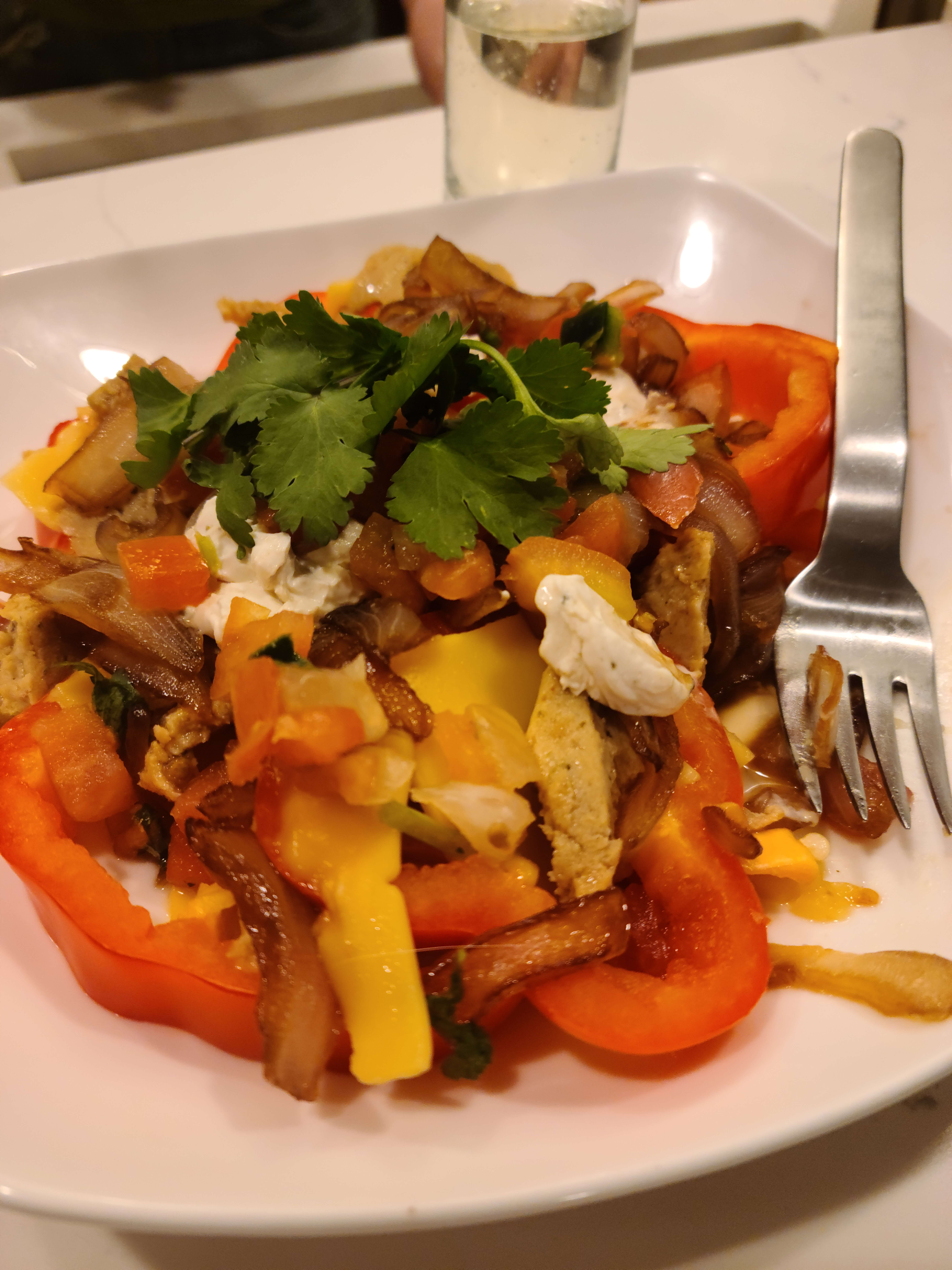 Yield: 1 serving
Crunchy red bell slices replace tortilla chips in this decadent-but-not version of the classic, complete with melty cheese, and you won't miss them.
I had planned to make Apple Not-chos, but Bob thought I asked him for a red and a green bell pepper instead of apples. They sound a lot alike don't they? At any rate, the mistake turned out to be one happy and tasty accident.
Slice 1 red bell pepper 1/4″ thick and microwave for about 30 seconds.
What happens next is up to you!
I layered on the following in a shallow bowl and microwaved for another 30-60 seconds:
-2 slices Follow Your Heart Smoked Gouda (https://followyourheart.com/)
-4 ounces cubed Tofurky Sesame-Garlic Chick'n (https://tofurky.com/what-we-make/chickn/sesame-garlic/)
1 medium yellow onion, slivered and caramelized in 1/2 cup water, 1 tablespoon Luquid Aminos, and 1 tablespoon maple syrup
-1 tablespoon Herbs & Chive Tofutti Better Than Cream Cheese (https://www.tofutti.com/)
Top with:
-1/4 cup pico de gallo
-2 tablespoons fresh cilantro leaves
Serve immediately with a fork!
#vegan #veganrecipes #veganfoodshare #veganfoodporn #plantbased #plantbasedrecipes #plantbasedfoodshare #plantbasedfoodpornvegansofinstagram #vegansoffacebook #vegansofvirginia #thebloomingplatter #vegannachos #plantbasednachos #Tofutti #followyourheart #tofurky