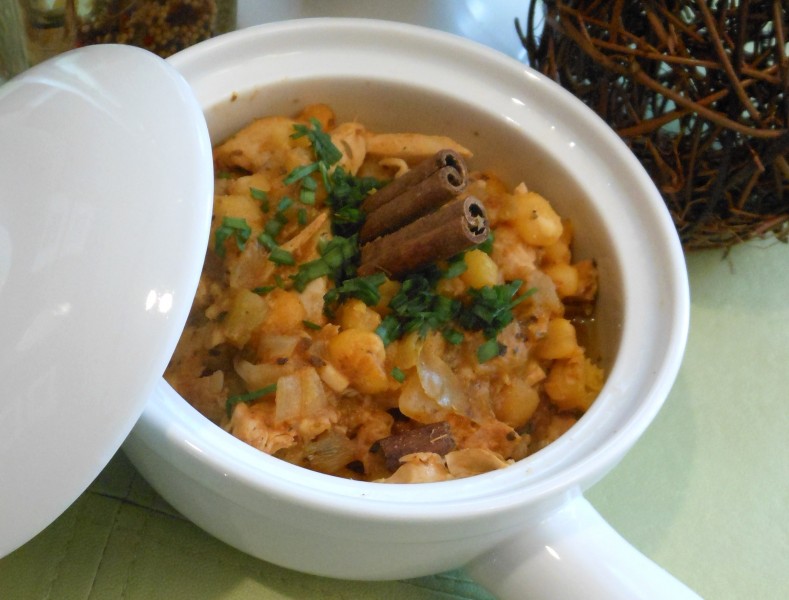 Yield: 4 servings
This simple, flavorful and robust "Chicken," Green Chili and Hominy Posole is sure to become a cold weather favorite.  However, unlike most of my recipes, it doesn't rely on seasonal ingredients, so you can actually enjoy it any time the mood strikes.
I have never made, much less eaten, Posole, but a non-vegan recipe in a recent culinary magazine made my mouth water.  So, recently, with Posole on my mind, I created my own version without even referring to that recipe.  I did, however, check online to make sure I knew what spices to include.
My version departs a bit because, well, that's what I do, though I still stayed true to the dish.  So, I used the traditional dried oregano, but I substituted ground coriander for fresh cilantro because I didn't have any, and I used smoked paprika instead of cayenne because those smoky undertones are irresistible to me and seemed perfect for the dish.  Also, I find the more subtle and complex heat of paprika a bit more appealing than that of cayenne.  Plus, the color was also lovely. For some reason, a note of cinnamon sounded good to me, so I added a couple of cinnamon sticks for a background note of warmth.  It was perfect!
The other main difference is that instead of serving warm corn tortillas alongside the soup, I decided to dice up a few and saute them with the onion for additional corn flavor, as well as for texture.  But don't worry; this is not yet another version of tortilla soup!  It is Posole through and through.
I loved it and wouldn't change a thing.  And I hope you agree.  But should you not, have some fun making it your own!  Find the recipe HERE where the good folks at One Green Planet were happy to publish it.