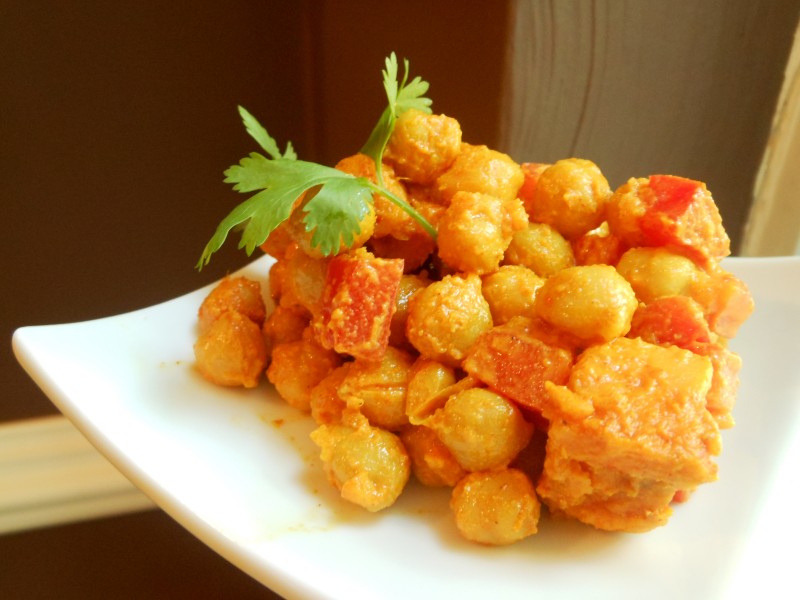 Yield: 4 servings
"Sunny" because of this salad's golden color and bright pop of citrus, and "souk" because it is redolent of an Arab marketplace, you will love Sunny Souk Sweet Potato and Chickpea Salad however you choose to enjoy it: over greens, stuffed in a wrap or pita pocket, scooped with veggie chips and more!  It is even veg(etarian) teenager approved!
*2 tablespoons vegan mayonnaise
1/2 teaspoon ground cumin
1/2 teaspoon smoked paprika
1/2 teaspoon turmeric
1/4 teaspoon garlic powder
1-15 ounce can chickpeas, rinsed and drained
1/2 pound cooked sweet potato, peeled and diced (I microwave the potato, allow it to cool a few minutes, remove skin–feed to dogs!–and dice)
1/2 large red bell pepper, stemmed, seeded and diced
Zest of 1/2 large lemon (don't omit this little bit 'o brightness!)
Sea salt to taste
Freshly ground black pepper to taste
In a medium bowl, whisk together mayonnaise, cumin, paprika, turmeric, and garlic powder.  Add chickpeas, sweet potato, and red bell pepper.  Toss lightly to distribute dressing.  Add lemon zest, salt, and pepper, and toss one final time.  Serve immediately or chill, covered, until serving time.
*I have just discovered a delicious brand of vegan mayo not advertised as vegan but as "egg free" at Whole Foods called "Just Mayo" that I highly recommend.  I also love Veganaise and my own Blooming Platter Mayo (in my cookbook).