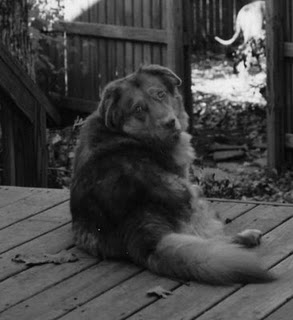 Yield: 10 frozen treats
Miss Pyttle, who came by her name honestly, was one of the inspirations for these treats. She's quite a picky eater, but loves these homemade snacks. Thanks to my sister-in-law, Terri Ann, for capturing Pyttle's serious and slightly concerned nature in this photo.
approximately 4 large vegan dog biscuits or cookies (Kroger carries some my dogs love–but they love anything)
½ cup canned pumpkin
1 large banana
¼ cup peanut butter
Place biscuits or cookies in a resealable plastic sandwich bag and gently pounded with a rolling pin to make a generous ¼ cup coarse crumbs. Line a baking sheet with waxed paper, parchment or tin foil. Place last three ingredients in a food process and blend until smooth and fluffy. Scrape into a small mixing bowl and stir in dog biscuit crumbs. Drop mixture by tablespoons onto cookie sheets. You should get 10 treats. Flatten slightly on top to make a round, slightly domed biscuit shape. Freeze. Transfer to resealable plastic freezer bags.
Note: While none of these ingredients are harmful to dogs, you should check with your vet to make sure that the proportions of ingredients meet with his or her approval for your particular dog(s).