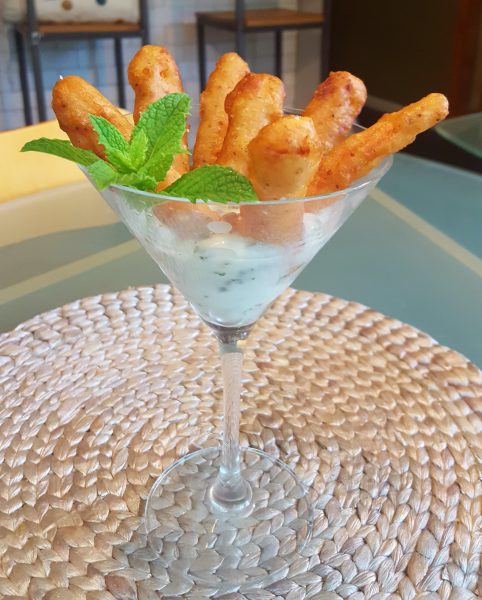 Yield: 4 servings (8 carrot sticks each)
True confession: Far from vegan, Bob's diet leaves much to be desired.  So, in an attempt to help him make somewhat better choices, I have encouraged fish, even fried fish.  (Sorry.)  I don't partake BUT I do make a kick@$$ batter, if I do say so, and it is delicious on, as I discovered for lunch today, carrot sticks to make "Carrot Fries."
My presentation is cute as can be don't you think?  And the Lemon-Basil dipping sauce so summery and lick-your-fingers delish.
Vegetable oil
1 cup all-purpose flour (I use white whole wheat)
1/2 teaspoon garlic powder
1/2 teaspoon onion powder
1/8 teaspoon sea salt
1/8 teaspoon freshly ground black pepper
1-12 ounce (vegan) beer, alcholohic or non-alcoholic ( you won't need quite all of it)
1/2 teaspoon grainy mustard (I use pommery)
1/8 to 1/4 teaspoon hot sauce (I use Sriracha)
32 carrot sticks about 3 1/2 inches long (I purchase them already in sticks, but if you prefer, trip and scrape slim carrots, cut them into 3 1/2-inch lengths, and then cut each into quarters lengthwise)
Sea salt
Lemon-Basil Dipping Sauce (recipe follows)
Line a baking sheet with paper towels.  Pour vegetable oil to a depth of 2 inches in a large skillet and heat to approximately 350 degrees over medium or medium-high heat.  In a medium bowl, whisk together dry ingredients.  Gradually whisk in beer until mixture is the consistency of pancake batter.  Whisk in mustard and hot sauce.  (You can taste it, but it will likely not taste especially appealing, though it is delicious after frying.)   Dip carrot sticks into batter, one at a time, to completely coat and immediately transfer to oil.  Fry about 10 to 11 at a time or until golden brown on one side, flip with tongs, and fry on the other side until evenly golden brown, about 2 minutes per side.  Remove to prepared baking sheet, lightly sprinkle with sea salt, and continue with remaining carrot sticks and batter.  Serve in a martini glass with Lemon-Basil Dipping Sauce at the bottom.
Lemon-Basil Dipping Sauce
1 cup plain vegan yogurt (most of it is too sweet for my palate, so I prefer vegan sour cream)
Zest of 1/2 large lemon (use the whole lemon if you prefer a more pronounced lemon flavor)
1 teaspoon fresh minced basil, or to taste
Sea salt and freshly ground pepper to taste
In a small bowl, whisk together all ingredients. Refrigerate, covered, until serving time.