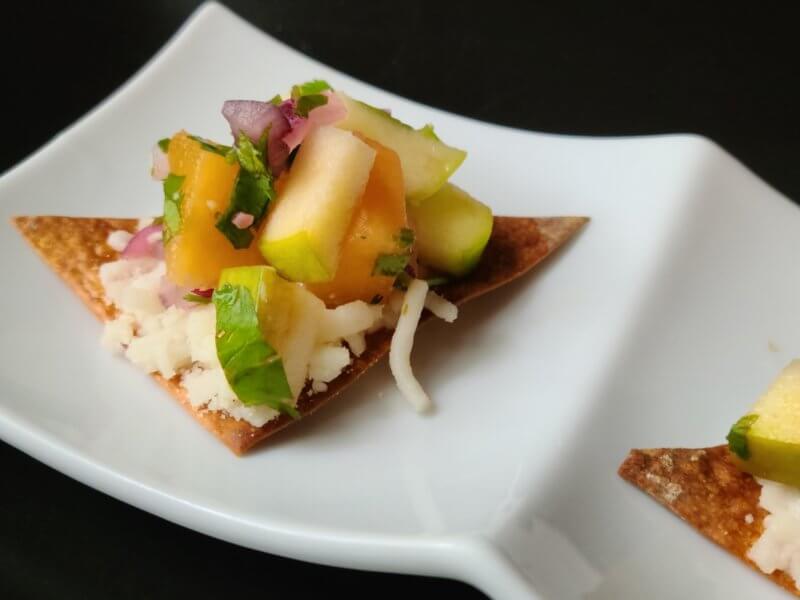 Not your typical fall fare, this cleaned-up-bar-food celebrates autumn's apple bounty and may be an all-time favorite flavor combo.
I used green apples, but red or a combination would be lovely too. Choose your favorite sweeter or more tart variety; all will be delicious, just with different flavor notes. Some recipes add honey/agave and apple pie spices, but I prefer it without, though a pinch of allspice is nice.
The "white cheddar" nachos were inspired by a food blogger describing a meal in a Nashville restaurant. I literally had to make my version the same night.
I use vegan shredded mozzarella, though smoked gouda sounds delicious and fall-like too. And, for the chips, I deep fried vegan eggroll wrapper triangles because nothing is crisper or more textured. But use whatever chips you like and the dish will still be a favorite.
After frying and draining the triangles, I spread them on a plate, topped them with the cheese, popped them in the microwave for 1 minute, and then spooned a generous portion of the bright and zesty pico over the top, a perfect counterpoint to the rich, melt cheese and ever-so-slightly oily chips.
I think the pico is best made and refrigetated a few hours before serving so the flavors marry nicely.
Green Apple Pico de Gallo
2 green apples, stemmed, cored, and diced
Juice of 1 lime
1/2 teaspoon sea salt
1/4 cup diced cantaloupe or red or green grapes (for a sweet note and a texture contrast)
Optional: pinch ground allspice
1/4 cup diced red onion
1 jalapeno, stemmed. cored, seeded, and very finely chopped
2 tablespoons minced fresh cilantro
1 teaspoon finely chopped garlic (1 large clove)
Pour lime juice over apples and sprinkle with salt to prevent the oxidation while you prepare/assemble other ingredients. Then stir all together, taste, adjust, and serve or refrigerate, covered, to allow flavors to marry.
#picodegallo #vegan #veganrecipes #veganfoodshare #veganfoodporn #plantbased #plantbasedrecipes #plantbasedfoodshare #plantbasedfoodporn