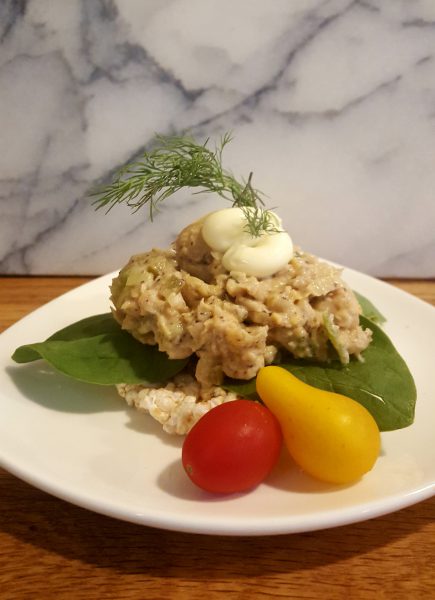 Yield: 4 to 6 servings
Let's be honest: chickpeas do not taste like tuna. They simply don't.
Maybe it's been so long since we all tasted tuna that something vaguely the same color and texture mashed up in mayo will do the trick for some.
Not for this gal.
I have made chickpea tuna on several occasions before and been unimpressed with my efforts. But I had made an (exquisite!) aquafaba chocolate mousse on Saturday for a party that evening and had two cans of chickpeas left over.  I also had a craving. So I got to work. Though, in truth, this mock tuna salad is really no work.
In the process, I discovered 5 "secrets":
Nori powder and soy sauce are critical for that briney hint of the sea. Dulce flakes simply don't pack enough ocean punch.
Tartar sauce in place of mayo tricks the brain into thinking "sea."  (I prefer tartar–with fresh dill, tarragon, sweet pickle relish and juice, and rice wine vinegar–made from my low calorie/ high flavor Blooming Platter Mayo, but a commercial brand of tartar, like Vegenaise–or commercial mayo made into tartar–would also be great in flavor)
Pickle relish lends that tuna sandwich-of-my-youth flavor.
Green onion provides a toned down reference to the diced white onion I loved in tuna salad as a kid.  And it also somehow hints at the ocean.
Well-mashed chickpeas are a must for a close texture approximation.
And there you have it.  As for serving, I haven't eaten much bread in years, but if nothing other than a sandwich will do, go for it. I love the salad, instead, piled on a rice cake even though I am not gluten sensitive. I crave that low-calorie texture.
And, though I certainly didn't eat tuna salad with fresh baby spinach as a child, I really love the color that the spinach leaves add to the whole presentation, as well as the flavor, texture, and nutrition.
For garnish, dill is a favorite flavor regardless, but it is especially delightful with tuna, so a little dab of additional mayo and a sprig of dill crowns this jewel. I just happened to have the baby tricolor pear tomatoes, so I popped a couple of those on the side for the most satisfying dinner on every level.
2-15.5 ounce cans chickpeas, very well drained but unrinsed, and coarsely mased with a fork
4 to 5 tablespoons vegan tartar sauce (you can use mayo, but tartar tricks the brain)
2 tablespoons sweet pickle relish (dill relish is fine if you don't care for sweet)
2 large green onions, thinly sliced, both white and green parts
1 teaspoon soy sauce or Tamari
I teaspoon Nori powder (purchased or place 1 broken sheet Nori in spice or coffee grinder and pulverize)
Sea salt to taste
1/4 teaspoon freshly ground black pepper