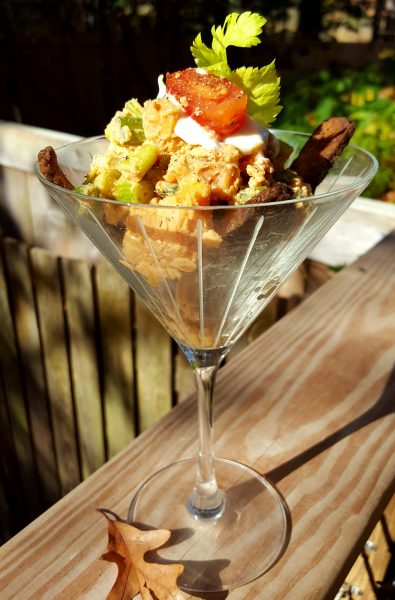 Ingredient note: you can successfully prepare this delicious salad with all potato–sweet or white–all cauliflower–orange or white–or a combination such as I have done.  I used sweet potato to keep the dish autumnal, cauliflower to lower the calories and carbs, and orange cauliflower to complement the color of the sweet potato flesh.  
Looking back at my most recent posts, I see that my self-perceived obsession with everything Buffalo and pumpkin is not perception but reality.  I have been nuts for pumpkin–savory or sweet–for as long as I can remember, which includes, as a very young girl, accidentally dropping my slice of pumpkin pie upside down at my grandparents', flipping it back over on my plate, wiping the whipped cream up off the floor, and going back to ask for another generous dollop.
My Buffalo Sauce infatuation started much more recently.  I was struck with a violent stomach flu or food poisoning the first week of school on September on a Thursday and Friday.  When I felt like allowing the first food to pass my lips, other than a smidgen of vegan strawberry ice cream–Saturday at about noon–I was craving Whole Food vegan Buffalo Pizza which I had never eaten in my life.  But I had to have a slice.  I couldn't finish it, but it tasted so satisfying to me.
Then, later in the fall, our Guidance Department hosted a come-and-go luncheon for teachers and someone brought a baked cheesy Buffalo dip that was not vegan.  But it had an intoxicating aroma, and I had to sample a little bit for research so that I could duplicate it. And I haven't stopped, creating crowd-pleasing Quick and Tasty Vegan Buffalo Chickpeas, Vegan Buffalo Chickpea Potato Skins, Vegan Baked Buffalo Dip, and now Buffalo Sweet Potato (and Cauliflower) Salad.
Actually, when I reviewed my recipes to find these links, I realized that my obsession started even earlier, with Bloomin' Best Vegan Buffalo Cauliflower (for tacos) and  earlier still with Vegan Buffalo Chex Mix (please make this for holiday gift-giving!).  And, of course, my vegan version of the original Vegan Buffalo Wings with Creamy Vegan Blue Cheez Dressing predated all of the above.
But back to this Buffalo potato salad: I think it looks pretty served in a martini glass with or without "stripes" of smokey tempeh up the side of the glass.  But I like it with, as the flavor combo is just right to my palate.
I hope you love this salad even half as much as I do.
Vegan Buffalo Sweet Potato (and Orange Cauliflower) Salad
2 cups cubed, peeled sweet potatoes
1 head orange (or white) cauliflower, separated into florets
1 recipe Blooming Platter Mayo (recipe follows)
2 tablespoon Frank's Hot Sauce (maybe start with 1 if you don't love hot stuff)
1 tablespoon Liqiid Aminos
1 teaspoon Sriracha
1 teaspoon melted vegan butter
1 teaspoon white vinegar
4 celery hearts, thinly sliced
4 green onions, thinly sliced
Sea salt and freshly ground pepper to taste
Optional garnish: a drizzle of Daiya Blue "Cheez" Dressing, halved cherry tomatoes, and sprigs of celery leaves
Preheat oven to 450 degrees. Spray a baking sheet with non-stick spray, spread potatoes and cauliflower evenly on sheet, spray with nonstick spray (use olive oil if preferred), and season with sea salt and pepper.  Roast 20 minutes or until tender and barely starting to caramelize. Transfer to a bowl to cool.
Meanwhile, make Blooming Platter Mayo, blending in hot sauces, vinegar, and butter at the end. Check for seasoning and add additional sea salt and pepper to taste if desired. Add celery and green onions to potatoes and cauliflower.  Pour spiced mayo over the vegetables and toss gently to combine. Chill for a couple of hours and serve garnished as desired.
Blooming Platter Mayo
I-12 ounce carton soft silken tofu
Juice of 1/2 medium lemon
1 teadoon white vinegar
1/2 teaspoon garlic powder
1/2 teaspoon mustard powder
1/2 teaspoon smoked paprika
1/2 teaspoon sea salt plus more to taste
1/4 teaspoon freshly ground pepper plus more to taste