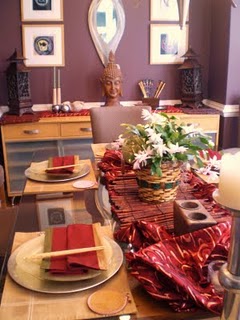 At our house, Thanksgiving is a time for celebrating tradition…and innovation.
Both my husband and I come from families of excellent cooks and food enthusiasts; the kind that eat one meal while planning the next.
Upon marrying and moving to Virginia Beach, Joe and I established a tradition of hosting Thanksgiving feasts for both of our families—his from Pennsylvania plus Georgia and Wisconsin, mine from Mississippi—along with a couple of family friends now in South Carolina.
As soon as the November culinary magazines hit the stands, I go into long-distance planning mode with my mom. For about a decade, we were more than content to celebrate the bounty of the season by preparing and serving various quasi-gourmet twists on tradition with contributions from the entire clan. But about seven or so years ago, we decided it would be fun to incorporate traditional Thanksgiving ingredients into non-traditional Thanksgiving dishes.
Our first foray into the global fusion Thanksgiving concept was a tribute to my husband's family's Italian heritage. On the menu that year, along with more standard Thanksgiving fare, was pumpkin gnocchi with browned sage butter and pine nuts. After that, we featured penne pasta with spinach and creamy pumpkin sauce and pumpkin tiramisu on the menu.
Another year, we decided to go whole hog—or, rather, whole turkey—into the global fusion concept, spicing up our Thanksgiving repast with tastes of Mexico and the American southwest from where much of my family hails. Two particularly memorable dishes were my Mom's delicious cornbread-bread stuffing rolled inside tortillas, and black beans with hunks of sweet potato.
Still another year, we saluted American drive-in/diner food. Since a burger, even a veggie burger, isn't a burger without fries and onion rings, our Thanksgiving "fries" took the shape of oven-roasted sweet potato wedges and our "rings," tempura battered and fried acorn squash slices. An ice-cream scoop of traditional stuffing and another of broccoli coleslaw with dried cranberries completed our blue-plate special.
Other featured cuisines have included the Cajun South, the Caribbean, and Morocco. This year, it was Thailand. Excited that Joe's mom, older sister and our niece could be with us, but a little blue that no one else could make it this year, including my family–this was only the second Thanksgiving in 48 years that we've spent apart–never mind that our beloved dog had also recently passed away, my friend David Prescott knew just what to do.
As the choral director at our school, he has access to almost any prop one could ever want. So, on Wednesday, he appeared in my door with a cart bearing loaner gifts: a beautiful carved Buddha portrait bust, bamboo mats, two lanterns, and two lengths of shimmery gold and berry-colored fabric. Plus, my mom surprised me with a beautiful blooming Christmas cactus. The photo accompanying this post shows how I put it all together, though I wish my mom or David had been here to work their designing magic.
The thoughtfulness behind their gifts embodies not only what Thanksgiving is all about, but it gave me just the little nudge I needed to shake the blues and focus on creating a special and festive atmosphere for our small gathering–our "smalliday"–that expressed my gratitude at being able to share it with Joe, Terry, Tina and Gabriella.
In the posts that follow, you will find our menu and each individual recipe with accompanying photos, delicious for a non-traditional Thanksgiving or any time you're in the mood for tastes of Thailand.
May we live each day like it's Thanksgiving.