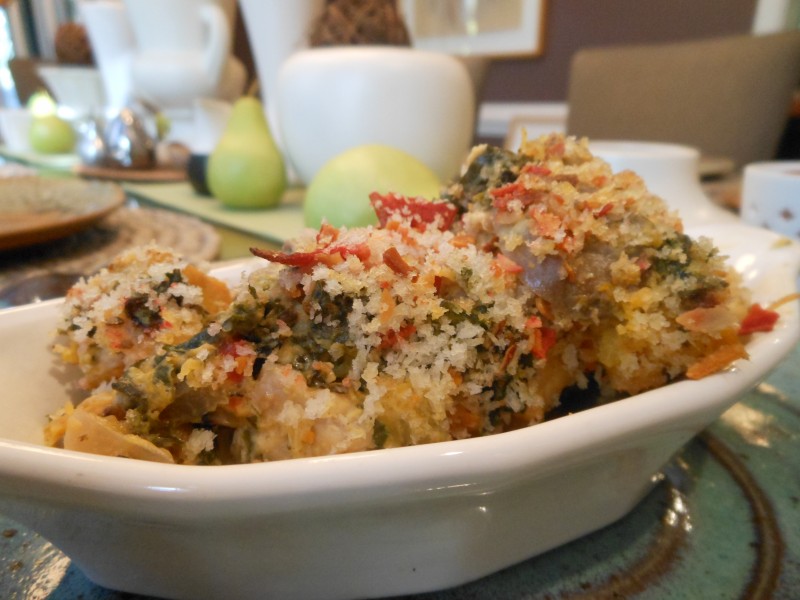 Yield: 6 servings
This creamy fall casserole is special enough for a Thanksgiving feast but easy enough for a weeknight meal.  The sweet potato chip topping is an updated nod to the vintage "church cookbook" casserole genre.
Though it is a balanced one-dish wonder–full of delicious, colorful and nutritious vegetables and tempeh–I will share a sweet potato side to round out this year's three course Thanksgiving repast.  Be sure not to miss dessert which I served up first: Vegan Pumpkin Spice Chocolate Bundt Cake with Espresso Spice Ganache!
1 tablespoon olive oil, divided
1 medium yellow onion, finely diced
4 stalks celery, sliced lengthwise into quarters, and then finely diced
Sea salt
8 ounces tempeh, cubed
10 ounces fresh chopped kale
1 cup roasted, cooked fresh pumpkin
1 cup sliced, sauteed mushrooms
1 cup (I use Tofutti Better Than Sour Cream)
1/2 cup vegan mayonnaise
1 tablespoon unbleached all-purpose flour
1-4 ounce jar pimentos, drained
1 tablespoon salt-free multi-purpose seasoning
1 teaspoon rubbed sage
Freshly ground black pepper
6 ounces sweet potato chips (*I use Terra brand Beets and Sweets), crushed (I roll a sturdy glass across them right in the bag)
Preheat oven to 350 degrees.  Oil a large casserole dish.  Heat 1 tablespoon olive oil in a large cast iron skillet over medium-high.  Add onion, celery, and a pinch of salt.  Saute, stirring frequently, for about 3 minutes or until beginning to soften.  Add tempeh and saute about 3 minutes more.  Add kale and cook, lowering heat if necessary and stirring fairly frequently, until tempeh is softened and partially wilted, about 3 to 5 minutes more.  Transfer to a large bowl.  Add pumpkin and mushrooms, and toss gently to combine.  In a small bowl, fold together sour cream, mayonnaise, flour, pimentos, multi-purpose seasoning, sage, and pepper. Spoon over vegetables and tempeh mixture, gently fold together until well-combined, check for seasoning and add more salt and pepper to taste.  Lightly mound into into casserole dish. Sprinkle evenly with crushed sweet potato chips, and bake, uncovered, for 30 minutes, covering if edges begin to brown too quickly.  Allow to cool at least 10-15 minutes before serving.
 *Note: the first time I made this dish, I only had a half a bag of chips, so I combined 3 ounces chips with the same amount of panko bread crumbs, sprinkled the mixture over the casserole, and sprayed lightly with non-stick spray before baking.  It is delicious with either topping.