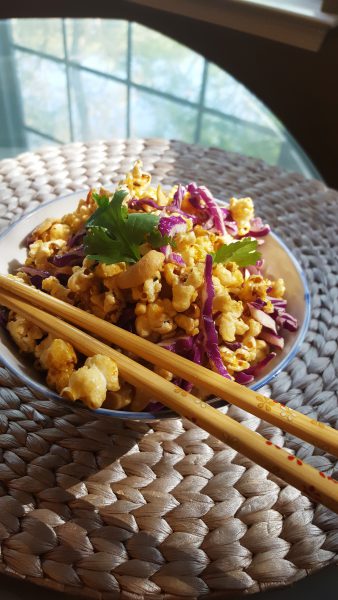 Yield: 2 servings.
This recipe defies both description and categorization; hence, I didn't know whether to tag it as a vegetable side dish, snack, slaw, or ???  I suppose it could even be a main dish.
But, no matter.  Whatever you call it or whenever you eat it–I was starved, so I invented it on the fly and devoured it for "brunch" today, as I am home on Spring Break with a bit more time to experiment–you will love it, odd as it sounds.
Be sure to serve it in a pretty Asian bowl with chopsticks to make a mouthwatering presentation that is as fun to eat as it is pretty.
1 tablespoon vegan butter
3 tablespoons vegan sour cream (you could use mayo or the thick part of coconut milk that separates in the can, but I wanted less calories)
1/4 teaspoon prepared Thai Red Curry Paste (feel free to add a bit more if you desire a more pronounced flavor and more heat)
1-2 tablesoon vegan fish sauce (sold as vegetarian in Asian markets), lime juice or half of each
6 cups popped kettle corn (slightly sweet and salty)
1/2 cup shredded purple cabbage (I buy it shredded in the bag; the type with some shredded carrot mixed in would be delicious too)
1/4 cup lightly roasted and salted cashew halves or peanuts + a couple for garnish
1 tablespoon pinched fresh cilantro leaves (feel free to chop but I was to impatient) + 2 sprigs for garnish
In a medium-large bowl, melt butter with sour cream in microwave for 30 seconds to a minute.whisk in curry paste and fish sauce.  Fold in remaining ingredients, except garnishes.  Pile into two small Asian-style bowls, garnish with cilantro sprigs and cashew halves, and serve immediately with chopsticks so that popcorn doesn't become soggy.