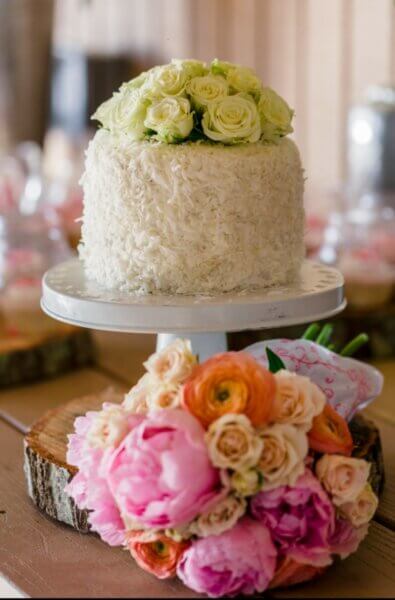 A widow for 4.5+ years, I married Bob Friesen on May 15, 2021, in a magical, mostly DIY, micro-wedding at the rustic Southern Shores Civic Association North Marina Pavilion in the Outer Banks of NC. The love from our tribe of just under 50 made the simple elegance of our sweet ceremony, officiated by a dear friend who is ordained, and posh picnic expansive beyond our ability to describe.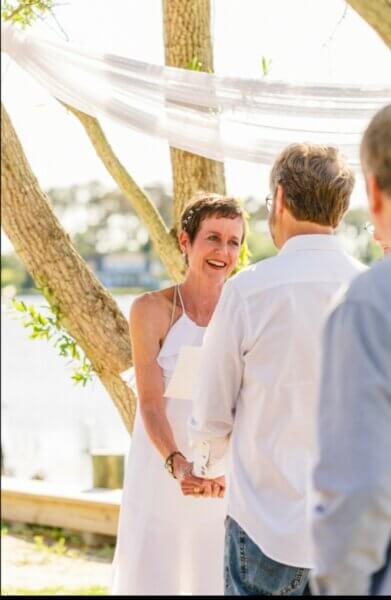 I will joyfully share a few of the delectable food-related details here, including my recipe for the Coconut-Almond Wedding Cake (or Cupcakes) of my dreams. My dear friend, Sharon Clohessy, and I did one trial run, tweaked the flavoring, and then she did the honors, creating our perfect cake and one batch of 24 cupcakes. I made the other batch and together we frosted them the morning of the wedding in our charming sraside hotel, the Sandeling Inn in Duck, NC.
Coconut-Almond Wedding Cake or Cupcakes (vegan & plant-based)
Batter:
3/4 cup butter (I prefer Miyoko's), room temperature
1 1/2 cup granulated natural sugar
1 tablespoon + 1 1/2 teaspoons baking powder
1 tablespoon almond extract (start with less and taste)
1 tablespoon coconut extract (start with less and taste)
1 tablespoon vanilla extract (start with less and taste)
3 cups all purpose flour
2.5 cups coconut milk (in a carton, not can)
Cream together butter and sugar. Beat in baking powder and extracts followed by alternating flour and coconut milk. Spread into 2 greased and floured 6″, 8″, or 9″ inch round cake pans or 24 paper-lined cupcake tins. Bake 30 minutes for 8 or 9″ cakes, slightly longer for 6″, or 20 for cupcakes or until wooden pick inserted in center comes out clean. Cool 10 minutes in pan, invert cakes layers onto racks, and cool completely. Frost and garnish. Freezes nicely if completely cooled and well-wrapped.
Buttercream or Cream Cheese Frosting
3/4 cup butter (I prefer Miyoko's)
3/4 cup vegetable shortening or plant-based cream cheese
2 pounds powdered sugar
1 tablespoon almond extract
1 1/2 teaspoons coconut extract (or more)
3/4 teaspoon vanilla extract (or more)
Garnish: Flaked unsweetened coconut, fresh edible flowers, like roses, pink sanding sugar, pink "XO"
Cream together butter and shortening or cream cheese. Gradually beat in powdered sugar and extracts. Thin if necessary with a tablespoon or so coconut milk. Frost cake or cupcakes and coat thickly with flaked coconut.
#vegan #veganrecipes #veganfoodshare #veganfoodporn #plantbased #plantbasedrecipes #plantbasedfoodshare #plantbasedfoodporn #vegansofinstagram #vegansoffacebook #vegansofvirginia #plantbasedweddingcake #veganweddingcake #plantbasedcoconutalmondcake #vegancoconutalmondcake #plantbasedweddingcupcakes #veganweddingcupcakes