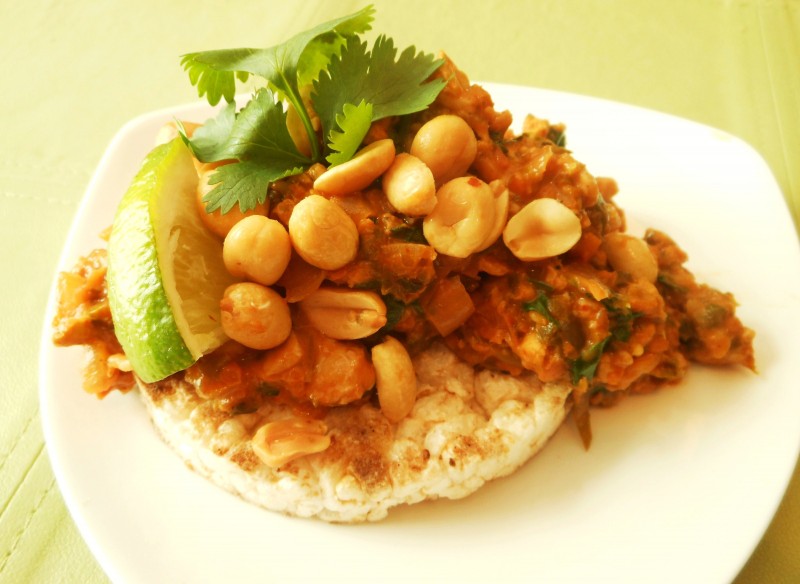 Yield: 4 servings
Like our dreams, sometimes the origins of cravings can be traced right to their source, and other times, they seem to have emerged out of nowhere.  The latter is the case with these Vegan Thai Sloppy Joes.
I know not from whence the idea came, but I had to struggle during my Saturday morning yoga class to suppress visions of pungent red curry paste, creamy coconut milk, and crumbly-chewy tempeh so that I could follow my teacher's directive to "focus on your breath."
I whipped into the grocery store on the way home for lite coconut milk and nuts, but everything else was at the ready in our pantry and fridge, following last week's trip to the farm stand and Trader Joe's, speaking of Joes.
Sloppy Joes would not be considered a balanced meal by anyone's standards, even when built around tempeh. And I wanted this to be a one dish wonder.  So a quick mental review of veggies found in Thai dishes resulted in the addition of finely chopped carrot and farm stand-fresh kale (in place of the more typical spinach).  The color, taste and texture that these ingredients added, not to mention the moisture, was exactly right.
You can certainly serve this addicting mixture on toasted buns, but trying to keep the finished dish more true to it's Asian inspiration, I like it best served over lightly toasted rice cakes.
1 tablespoon olive oil
1 cup finely chopped carrot (I use a food processor for this task)
Sea salt
1/2 cup diced yellow onion
2 cups, stemmed, and finely chopped kale, Swiss chard or spinach (I use a food processor for this too)
2 large cloves garlic, minced
1/4 cup water
8 ounces tempeh (any variety, unseasoned)
1 tablespoon red curry paste, or more to taste (available on the international foods aisle of most grocery stores and at Asian markets)
1 tablespoon tomato paste (you can substitute catchup in a pinch)
1 teaspoon soy sauce (I use lite or low sodium)
1/2 teaspoon natural sugar
1 can light coconut milk (you can use regular if you don't mind the calories, as it does have more intense flavor)
1 tablespoon vegan fish sauce (sold as Vegetarian Fish Sauce in Asian markets; you can omit, but it adds a distinctive Thai flavor)
Zest of 1/2 lime
1/4 cup finely chopped fresh cilantro
Accompaniment: plain unsalted or lightly salted rice cakes (use small rice cakes if serving this dish as an appetizer), toasted quickly on each side in a skillet lightly coated with nonstick spray
Garnishes: lime wedges, lightly salted peanuts or cashews, fresh cilantro sprigs
Heat oil in a large cast iron skillet over medium-high.  Add carrot and a pinch of salt and saute, stirring frequently, for about 2 minutes.  Add the onion, another pinch of salt, and saute another 2 minutes.  Then add the kale and the garlic, another pinch of salt and the water, and saute for an additional 2 minutes.  Add the tempeh and saute 2 minutes more.  Add curry paste, tomato paste, soy sauce, sugar, coconut milk and fish sauce, and saute, still stirring frequently, for a final 10 minutes or until mixture thickens, slightly reduces, and all flavors combine.  Stir in lime zest and chopped cilantro, and serve immediately over toasted rice cakes garnished as desired.