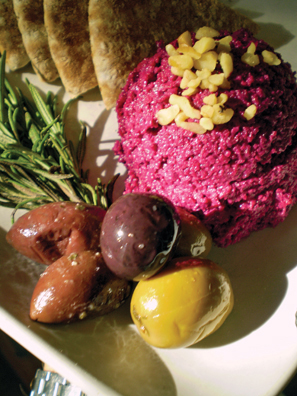 Welcome to the Virtual Vegan Potluck, an international "progressive" potluck meal, and you are one of our special guests!
To begin at the first "house," visit Lidia at Vegan Bloggers Unite!
I volunteered to bring an appetizer, and I chose one of everyone's favorites: Beet Muhummara (backstory and recipe follows).
But there are lots of other appetizers being served.  Be sure to visit the "houses" on either side of mine and from there, link by link, you can "progress" right on through all of the courses in one of the tastiest and varied meals ever served.
SENSUAL APPEAL is sure to bring something to the feast to delight your senses.  And VEGAN SPARKLES will, no doubt, prove that all that glitters is not gold!
So come on along, dinner is served!…
Do you walk right past the beets in your fall market?  If so, my advice is to throw it in reverse and back-up!  If you think you are a beet-hater, think again!
This jewel-tone beauty–a favorite in my cookbook–is inspired by muhummara, a Turkish roasted red pepper and walnut spread.  And it has single-handedly converted many a beet-haters into a beet lover right before my eyes.
Perfect for festive occasions because of its shimmering color–but simple enough for any day of the week (you can "beet" the clock with this one!)–Beet Muhummara is lovely with warmed pita triangles and olives or rolled up in lettuce leaves for "skinny" beet burritos. 
Yield: 4 cups
3 large fresh raw beets, peeled and quartered (do not use canned beets)
1 1/3 cups toasted walnut pieces (plus more for garnish, optional)
1/3 cup Panko bread crumbs
3 large garlic cloves
1 tablespoon ground cumin
1 1/2 teaspoons sea salt
Freshly ground black pepper
1/8 teaspoon red pepper flakes
2 tablespoons pomegranate molasses or mild molasses, not blackstrap
3 tablespoons lemon juice
1/3 cup olive oil
In a food processor, combine the beets, walnuts, bread crumbs, garlic, cumin, salt, pepper, red pepper flakes, molasses, and lemon juice and pulse to a textured paste.
With the motor running, drizzle in the olive oil and process until fairly smooth, but still textured. Scrape the mixture into a serving bowl, garnish with walnuts, if using, and serve.
From The Blooming Platter Cookbook by Betsy DiJulio. Copyright © 2011. Vegan Heritage Press.Used by permission.