Because of Huff and Minnie: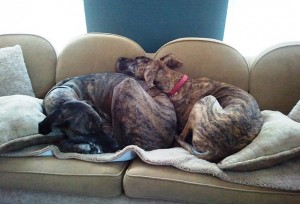 I needed to recover our living room sofa.  It is a striking mid-century piece that I bought from a friend for a song.  She had inherited it covered in gorgeous apple green silk from her mother-in-law.  But her young children were destroying it with their peanut-butter-and-jelly fingers.
When I rescued it, I spent a pretty penny to have it reupholstered in two tones of butterscotch chenille-like fabric.  Because I knew the dogs would lounge on it, I laid a matching rubber-backed carpet runner over the bottom cushions (as  you can see in the photograph), but Minnie liked to burrow behind the pillows and, consequently, it was smelling a bit like dog and showing some wear.
Not wanting to spend a fortune nor figure out how to transport it to Joe's Upholstery in VA Beach (the best!), I decided to simply recover the two large bottom cushions and the 4 oval back cushions.  Because of the dogs, I wanted something like leather, but for the sake of cows, I wanted a leather-look.  "Automotive Vinyl" was recommended and, while it sounds utilitarian and not terribly comfortable, it is the opposite.
I was able to match the butterscotch chenille of the frame and had new bottom cushions cut, as the others had gotten compressed.  Now, it's stylish, comfy and animal-friendly in more ways than one.   The results are pretty retro-modern fab, don't you think?