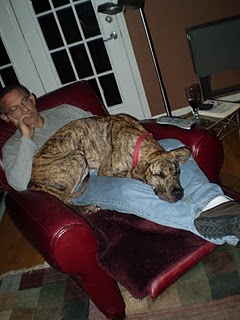 Those of you who follow this blog know that the marvelous Minnie, a one year old rescued stray, entered our lives in early December following the death of our wonderful Webster at age 16. From time to time, I can't resist posting photos of the dogs assuming that virtually all vegans are animal lovers.
Saturday night, when our dinner plans with friends were, sadly, aborted because one of them broke both wrists when thrown from her horse, we decided to spend the evening in front of the fire with a glass of wine, dozing off and on. With Huff and
Pyttle
on the sofa and me in a side chair, Minnie decided that the only place for her 65-pound self was in Joe's lap. As she "doggedly" struggled to find a way to make it work, her "lap dance" was pretty comical. But she prevailed!
That dinner was simply not meant to be. Just as I was preparing to cook and right before the phone call came from our friends, I went into the garage to discard something, returning mere seconds later to discover that Minnie had wolfed down three gorgeous hunks of tofu from my favorite Asian market. Annoying, yes. But not life-threatening, as was her consumption of 14 ounces of bittersweet chocolate which ended in a vomit-inducing trip to the emergency vet less than one week after she came to live with us.
Can I tell you how frightened I was? Chocolate and dogs are a potentially lethal combination. A mere 4 ounces is toxic for a dog of her size. If your dog should ingest chocolate, he or she must vomit it up before it is metabolized. Hydrogen peroxide may do the trick, but it didn't for Minnie. The prescribed Rx was an injection to induce vomiting followed by a charcoal slurry to bind any remaining chocolate in her system (though the vet was quite sure, based on the floor of the hospital, that there was none left).