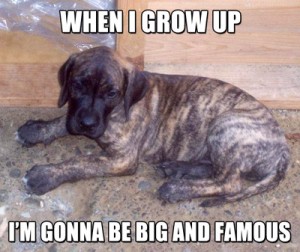 Superbowl protective that is!
As some of you know, my husband's and my male Great Dane, Huff, co-stars with local actor Derek Leonidoff in a commercial produced for $20 right here in VA Beach and entered into the Doritos "Crash the Superbowl" competition.
The brainchild of our friend, Jonathan Friedman, "Man's Best Friend" was seleted by a panel of judges as a Top Five Finalist out of 6,000 entries!
If you want to see Huff (and Derek) crash the Superbowl, you MUST vote, as only the Top Two, as decided by viewer vote, will earn air time during the big game!
The website for "one stop shopping" is www.MansBestFriendCommercial.com.  There you can watch the commercial, vote up to five times per day (!) per email address by clicking on the buttons provided, watch the Ad Blooper Reel, see the Huff Pic of the Day, sign up for daily reminders and more.  You can also become a Facebook fan of Huff the Great Dane by "licking," er, I mean "liking" him here.  But to count, you must vote on the official "Crash" sites!
Sit, Stay, Share! …with everyone you can think of via Facebook, Twitter, email, text message or good old fashioned word of mouth.