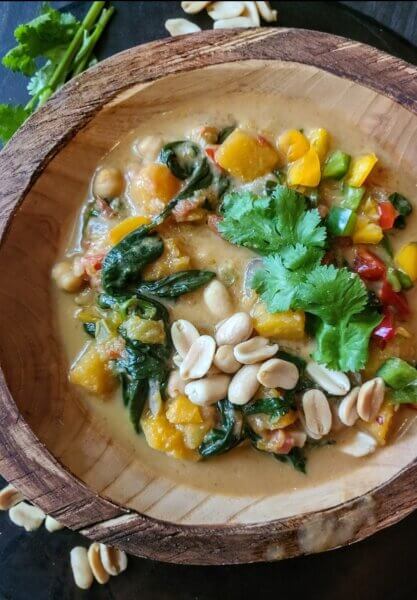 West African Peanut Stew with Butternut Squash, Chickpeas & Spinach (vegan & plant-based)
With temperatures falling, I find this, my newest recipe, absolutely addicting. It checks all my autumnal culinary boxes and I hope yours.
Yield: approximately 8 servings
1to 2 tablespoons olive oil
1 medium onion, diced
1 teaspoon sea salt
4 large cloves garlic, thinly sliced
1/2 teaspoon garlic powder
1/2 teaspoon ground cumin
1/2 teaspoon onion powder
Approximately 21 ounces peeled and cubed butternut squash
1-8 oz can diced tomatoes with juice (I used a variety with cilantro and jalapeno)
4 cups vegetable stock
1/4 cup smooth peanut butter
4 cups semi-firmly packed baby spinach
Garnishes: Fresh cilantro, whole or chopped roasted and lightly salted peanuts, and finally diced bell pepper (I like a tri-color blend)
In Dutch oven or large stockpot, heat oil over medium to medium high. Add onion and sea salt and saute, stirring frequently, for a few minutes or until onion is softened. Add garlic and saute, stirring, for another 30 seconds to 1 minute. Add spices and butternut squash and sante, still stirring frequently, for several minutes or until squash is softened and just starting to break down. Add remaining ingredients, except garnishes, and simmer gently until thick and creamy and flavors are married. Add spinach and stir until wilted and completely incorporated. Serve topped with cilantro, peanuts, and and bell peppers, as desired.
#vegan #veganrecipes #veganfoodshare #veganfoodporn #plantbased #plantbasedrecipes #plantbasedfoodshare #plantbasedfoodporn #vegansofinstagram #vegansoffacebook #vegansofvirginia #plantbasedbutternutsquash #veganbutternutsquash #plantbasedpeanut stew #veganpeanutstew #plantbasedwestafrican #veganwestafrican