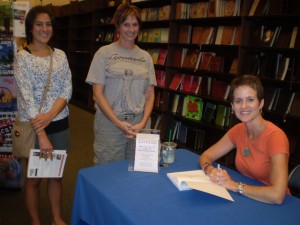 Thanks from the bottom of my bloomin' heart to all who made last Tuesday's Barnes & Noble Blooming Platter book-signing a standing room only/sell-out!
Marian Atterberry, who handles community relations for Barnes & Noble, VA Beach, was warmly cautious when I approached her initially,  but quickly became wholeheartedly enthusiastic, going above and beyond to help insure a successful event.
The local media, who had been beyond generous with coverage when The Blooming Platter Cookbook was launched in May with the "Incredible Edibles" art exhibition and book-signing at Mayer Fine Art in Norfolk, could hardly offer a repeat performance.   But they graciously included large photos with their calendar listings which were widely seen and commented on, driving interest ed folks to our event.
This "author event" was billed as a "book-signing and discussion," but we weren't sure if there would be enough people for the discussion, figuring that I could just enjoy chatting with people individually as I signed their books.  But, before 6, a signing line began forming and I signed steadly for I don't even know how long, but when I finally looked up, much to my delighted surprise, every seat was filled and kind folks were standing around the edges! 
After a very brief introduction, I invited questions from our guests and so began a lively discussion among total strangers, friends, neighbors, colleagues and former colleagues and former students, some with their mothers.  I was so gratified to be surrounded by such a cross-section of wonderful folks from our community. 
Marian had asked me to bring some vegan products which was a great suggestion, as people who were unfamiliar with them were really glad to see some of the packaging, so they'd recognize it in a store,  and learn that most of it came from Kroger!  The aroma of nutritional yeast delighted the uninitiated, others were glad to learn of markets that was new to them like the Organic Depot, and still others about Norfolk's new vegan restaurants: Path and Quenna's Raw & Vegan.  One was in search of fresh fava beans and another in search of information on the vegan diet for hard-core "strong man" fitness enthusiasts, and I ipromised to try to find them the info they sought.  It was such a diverse group of  interesting and interested people!
Because of health department regulations, we unfortuantely couldn't offer edible samples to those in attendance, but I did gift Marian and her staff with Peaches-and-Cream Cupcakes with Peach Butter Whip Frosting afterwards.  She said they were the best dessert she'd had in a very long time! 
Thanks again to all~may your platters bloom in profusion!