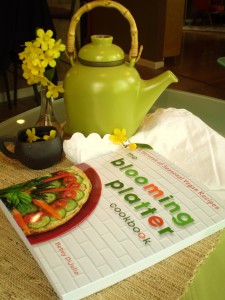 I am so excited because this week there are TWO separate giveaways going on for my new cookbook, The Blooming Platter Cookbook.
As I mentioned last Thursday, my publisher, Vegan Heritage Press, is sponsoring a giveaway on their blog.   Plus, there is another giveaway in progress at VegWeb.
Don't delay…the Vegan Heritage Press contest ends Sunday, May 1, 2011, at midnight.  While you're on the site, I encourage you to "follow" Jon Robertson–you'll want to go wherever he "leads"!
VegWeb's webmistress, Laura, writes a delightful post and completely flattered and humbled me by calling The Blooming Platter Cookbook one of her "latest favorites" among vegan cookbooks.  (Thank you, Laura!)
I hope you'll consider joining VegWeb so that you can enter for a chance to win their give-away ending Tuesday, May 3, 2011;  but, just as importantly, to participate more fully in all their enticing and comprehensive site has to offer.
Hope you win!  But if you don't, you can click on the linked book title above to order your very own copy.