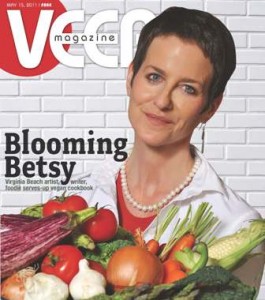 With "Incredible Edibles," the official launch and signing party of The Blooming Platter Cookbook just days away, I am thrilled and humbled to be the May "cover girl" for VEER Magazine, Hampton Roads' alternative source for news, arts, culture, entertainment and dining information.
My beloved publisher (I am the arts writer for VEER), Jeff Maisey, describes the magazine's mission as bringing "fresh perspectives to covering the diverse arts and culture community in Southeastern Virginia through print and online."  And we try hard to do just that.
The print edition hit the stands over the weekend, so if you live in Hampton Roads, be sure to snag a copy at a Harris Teeter grocery store or any one of a number of other locations.  My travels took me all over Norfolk on Saturday, and there were copies at  four of my stops.
The talented Kathy Keeney shot the front cover photograph that you see here.  We had a really enjoyable photo shoot, but it is hard work, mostly for her, especially since I have a great face for radio and had to smile with my mouth closed to hide the dreaded braces!
That we needed a "blooming platter" was obvious.  So Kathy supplied the many pounds of gorgeous veggies that I held aloft.  But it was also her idea to give a subtle nod to Julia Child with the white collared shirt and pearls (my husband and I host an annual Happy Birthday Julia Child party each August).
The similarly talented Kristen Kirk wrote the feature story.  We had a  fun phone interview, and I always love to read how Kristen translates what she sees, hears and thinks into words.  But this time, I was overwhelmed.  How she managed to seamlessly weave together so many of my passions–my husband, friends, art, students, teaching, entertaining and more–into one cohesive story with vegan food running through it all, I will never know.  The picture she painted was incredibly generous.
If you live outside the area, you can read her story online by clicking the link above, but you won't be able to see Kathy's inside photos, so I'll post them in a day or so.  You especially won't want to miss Minnie, the Miniature Great Dane's 15 minutes of fame: "Portrait of Minnie with Blooming Platter."
Jeff, Kathy and Kristen, as my dear friend Iona would say, "I bow in your directions."