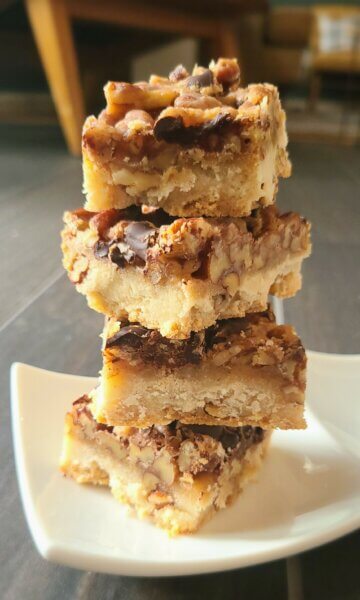 These are just perfection: not too sweet with beautifully contrasting textures.

Yield: 16 bars

Shortbread Crust:
5 tablespoons vegan butter, softened (I love Miyoko's)
1/2 cup sugar
1 1/4 cup flour or King Arthur Gluten- Free Baking Mix
1/4 teaspoon sea salt
1/2 cup broken or chopped pecans

Spray an 8-inch square pan with nonstick spray, line with a strip of foil or parchment paper. And spray again. Cream together butter and sugar. With mixer on low speed, blend in flour, salt, and broken pecans until a dough forms. Press evenly into pan and bake 25 minutes.

Filling:
3 tablespoons vegan butter
6 tablespoons maple syrup
1/4 cup sugar
2 tablespoons nondairy milk
1 tablespoons bourbon
1 teaspoon vanilla extract
1/8 teaspoon sea salt

1 1/2 cups broken or coarsely chopped pecans
1/2 cup vegan, gluten-free chocolate chips
In a small saucepan over medium heat, combine all ingredients, bring to a simmer, and cook for 1 minute. Pour evenly over crust, sprinkle with chocolate chips, and bake 15 minutes. Cool and cut into squares.