I hope this recommendation isn't too late for those of you who, like us in Southeastern, VA, are staring down Hurricane Irene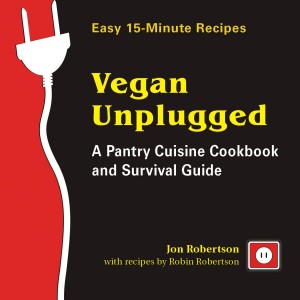 .  However, this book is good to have on hand year-round for all kinds of disasters.
Vegan Unplugged is a manual/cookbook, written by Jon Robertson, with recipes by his wife, well-known vegan cookbook author, Robin.  It is an indispensable resource for folks who want to eat well when the lights go out!
There are loads of indispensable general tips in addition to meat- and dairy-free gourmet "pantry cuisine" recipes based on the ingenious "Five Day Meal Box" complete with a shopping list and a photo of how to pack it all in.
With this handy, helpful and very readable guide, you can treat yourself to upscale dining when the power lines are down!
Be safe!