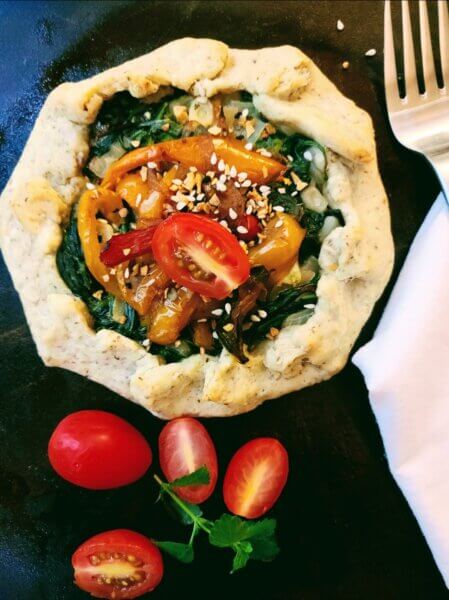 I am incredibly proud of this simple, tender, tasty dough. I wanted to make a savory galette, but I didn't want a jillion calories from the dough. The flour is not the problem; it's the oil or shortening in most pastry.
Press-in doughs can get away with less oil–and I make a delicious one that is shared here on The Blooming Platter–but I wanted to make a galette which meant that the dough had to be pliable enough to fold over itself without cracking. My solution was to add to 1/2 cup all purpose flour the following:1 tablespoon flaxseed meal mixed with 2 tablespoons water–to make a vegan "egg" for structure–and only one tablespoon olive oil plus 1 tablespoon nondairy milk. That's it…easy as pie. 😀
Almost Oil-Free Pastry Dough
Yield: 1 serving (easily multiplies)
1 tablespoon flaxseed meal whisked together in a small cup with 2 tablespoons water and set aside for a couple minutes
1/2 cup all purpose flour
1/2 teaspoon sea salt
1 tablespoon olive oil
1 tablespoon nondairy milk (I use soymilk)
In a medium bowl, whisk together all ingredients. Knead a few times until dough comes together in a ball. Press or roll out into a circle using the smallest amount of additional flour on pastry board and rolling pin as possible.
To make the gallette dough in the photo, I simply oiled a baking stone and pressed the dough out to the desired thickness in a rough circle, filled it, and folded the edges over the filling,, pleating them as I went.
The galette filling in the photo, if interested, is just 1/4 medium yellow onion, diced, and 2 to 3 big handfuls baby spinach sauteed in 2 tablespoons water with a little sea salt, freshly ground black pepper, and Greek seasoning. Into that, I melted 1 tablespoon vegan cream cheese. After filling and shaping the galette, I topped it with roasted strips of bell peppers and baked at 450゚ for about 12 to 13 minutes. When I removed it from the oven, I sprinkled with Everything Bagel seasoning before serving.
#vegan #veganrecipes #veganfoodshare #veganfoodporn #plantbased #plantbasedrecipes #plantbasedfoodshare #plantbasedfoodporn #vegansofinstagram #vegansoffacebook #vegansofvirginia #plantbasedgalette #vegangalette #veganpastry #plantbasedpastry