Yield: approximately 6 to 8 appetizer servings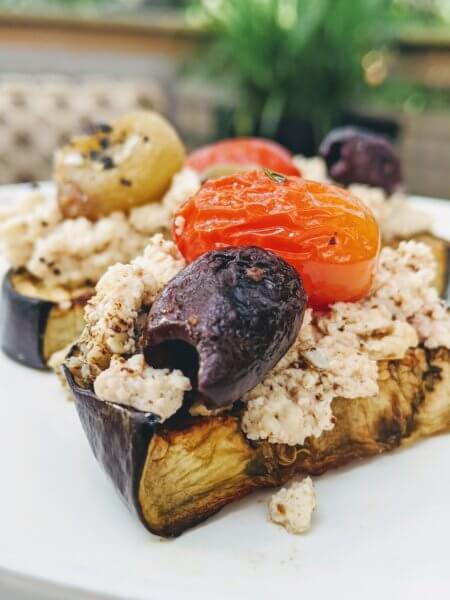 This may be one of the tastiest, lightest, and healthiest throw-together appetizers ever.
When ee invited a friend over tonight at the last minute for an outdoor socially- distanced happy hour, I realized I had nothing to serve her other than some green grapes and cherry tomatoes that I had previously roasted.
But I also had some extra firm tofu on hand and thought I could make two kinds of baked Mediterranean "cheese," topping one with the roasted green grapes and one with the roasted cherry tomatoes and kalamata olives.
But then I had nothing to serve these "cheeses" on. Our friend asked what she could bring and I initially said bread or crackers and then retracted that because I remembered I had an eggplant and thought roasted slices of it would make a perfect crostini base. Indeed!
If you prefer more of a spread, just process the tofu in the food processor before dividing it. For that matter, if you prefer other flavors, mix in spices and herbs and top these "cheeses" anyway you choose. Roasted garlic and sun-dried tomatoes, along with perhaps some pine nuts, sound especially delicious to me.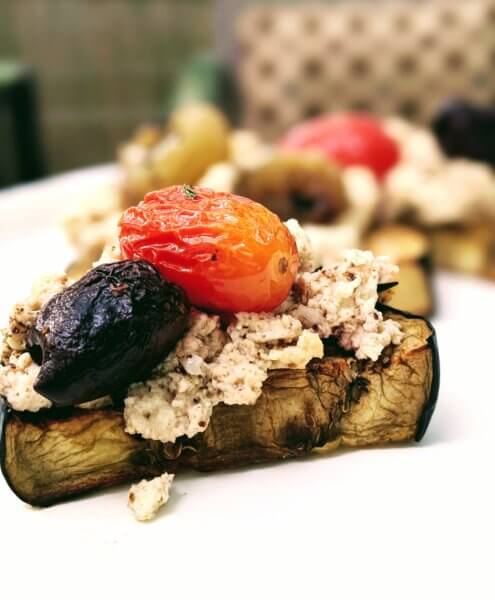 Baked Mediterranean "Cheese" Appetizer Two Ways with Eggplant Crostini
14 to 16 ounces extra firm tofu
2 very large clothes garlic, minced
2 teaspoons olive oil
1/2 teaspoon Zataar
1/2 teaspoon Greek seasoning
1 teaspoon kalamata olive juice
Sea salt and freshly ground pepper to taste
1/2 teaspoon Everything Bagel Seasoning
Approximately 12 roasted green grapes (I spray them lightly with non-stick cooking spray–though you may use olive oil–season with salt and pepper, and roast in one layer on a baking sheet at 400° for 20 to 25 minutes)
Approximately 12 roasted cherry tomatoes (roasted as above only with sprigs of whole thyme laid over the top)
Approximately 8 kalamata olives
Accompaniment: roasted or grilled eggplant slices (directions follow), crusty bread, or crackers
Preheat oven to 400°. Oil 2 approximately 6-inch oven safe dishes. Crumble half of tofu into one and half into the other. Add one minced garlic clove to each bowl followed by 1 teaspoon each olive oil. Into one of the bowls, add Zataar, and into the other add Greek seasoning along with kalamata olive juice. Season both with sea salt and black pepper. Top the Zataar flavored "cheese" with roasted green grapes and sprinkle with Everything Bagel Seasoning. Top the Greek- flavored "cheese" with the roasted tomatoes and thyme sprigs. Baked for approximately 20 minutes or until heated through. Serve on roasted or grilled eggplant slices, crusty bread, or crackers.
Roasted Eggplant Crostini
Wash a 6 or so inch eggplant, trim off ends, halve lengthwise, and slice into 1/2-in thick slices. Place slices on baking sheet sprayed with non-stick spray and lightly spray tops. (You may use olive oil if you prefer.) Season with sea salt and roast for approximately 20 to 25 minutes.
#vegan #veganrecipes #veganfoodshare #veganfoodporn #plantbased #plantbasedrecipes #plantbasedfoodshare #plantbasedfoodporn #vegancheese #veganappetizer #plantbasedappetizer #veganmediterranean #plantbasedmediterranean