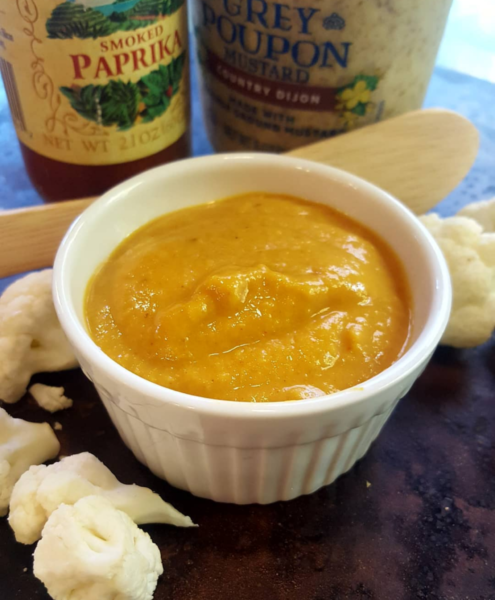 This rich, thick and creamy cheese sauce–which contains no added fat and is ridiculously low in calorie–owes a debt of gratitude to Susan Voisin. I consulted her recipe, but then tweaked the flavor to suit my taste. It instantly became a staple in my home and is non-vegan aporoved.
Feel free to spice it up any way you choose. Even add plant-based proteins. It would be delicious as an enchilada filling with Mexican-inspired ingredients. But, today, it is going to a Super Bowl party with me. Game on!
4 cups cauliflower florets
4 cups lightly salted water
Juice of 1/2 medium-large lemon
1/2 cup nutritional yeast
2 tablespoons yellow miso paste
1 teaspoon stone ground mustard
1 teaspoon Liquid Aminos
1 teaspoon garlic powder
1 teaspoon onion powder
1/2 teaspoon smoked paprika
1/2 teaspoon ground turmeric
In a large bowl, combine cauliflower and water. Microwave for about 10 to 15 minutes or until very tender. (Alternatively, you may simmer, partially covered, in a large saucepan over medium to medium-high heat.) Transfer cauliflower and about a half cup of the water into the bowl of food processor. Save remaining water. Process until cauliflower forms a thick paste. Add all remaining ingredients to the bowl of the processor and process until very smooth. Taste and adjust seasoning as desired. Transfer to a large saucepan and simmer over medium heat until desired consistency is reached, adding remaining water a half cup or so at a time. Serve immediately as you would any cheese sauce.
#vegan #veganrecipes #veganfood #veganfoodshare #veganfoodporn #plantbased #plantbasedrecipes #plantbasedfood #plantbasedfoodshare #plantbasedfoodporn #vegancheesesauce #plantbasedcheesesauce