If bourbon is your spirit animal, below is my newest recipe that I created for a Maker's Mark loving friend's Christmas gift.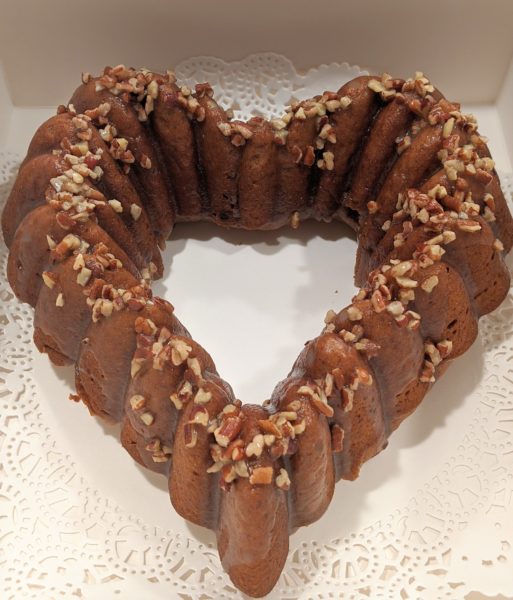 Can I just tell you how warm and inviting our house smelled?
Bourbon Spiced Bananoffee Bundt Cake with Bourbon Sour Cream Glaze (plant-based)
Bourbon-Spice Bananoffee Bundt Cake
2 cups flour
1 cup brown sugar
2 egg substitutions (I like Neat Egg)
1 tablespoon cinnamon
2 teaspoons ground ginger
1 teaspoon sea salt
3/4 teaspoon ground cloves
3/4 teaspoon ground nutmeg
1/2 teaspoon coriander
1 teaspoon baking powder
1/4 teaspoon baking soda
1 banana, mashed
3/4 cup vegetable oil
1/2 cup non-dairy milk
1/2 cup bourbon
1/4 cup maple syrup
2 tablespoons caramel syrup (or 2 more tablespoons maple syrup)
2 tablespoons concentrated coffee
2 teaspoons vanilla
Bourbon Sour Cream Glaze (recipe follows)
Preheat oven to 350 degrees. Spray a bundt pan with baking spray. In a large bowl, whisk together all dry ingredients. Make a well in center, add mashed banana, and pour in all wet ingredients. Whisk together until batter is smooth. Pour into prepared pan. Bake 45 minutes or until a toothpick inserted in center comes out clean. Cool 10 minutes. Invert onto wire rack, cool completely, and then glaze.
Bourbon Sour Cream Glaze
2 tablespoons vegan butter, melted
2 tablespoon vegan sour cream
1 tablespoon bourbon
1 teaspoon vanilla
1 cup powdered sugar
1/4 to 1/2 cup chopped pecans
In a medium Bowl, whisk together first four ingredients. Whisk in powdered sugar, 1/4 cup at a time until any lumps are dissolved. Place cake on wire rack in shallow pan to catch drips and pour glaze over. Sprinkle with pecans.
I presented the cake in a doily-lined white cake box tied with a cream-colored-and-sparkly-gold-pinecones wired ribbon and sprigs of rosemary. If I had had a cinnamon stick, I would have tucked it in.
#vegancake #plantbasedcake #veganholidaycake #plantbasedholidaycake #MakersMark #vegan #veganrecipes #veganfoodshare #veganfoodporn #plantbased #plantbasedrecipes #plantbasedfoodshare #plantbasedfoodporn