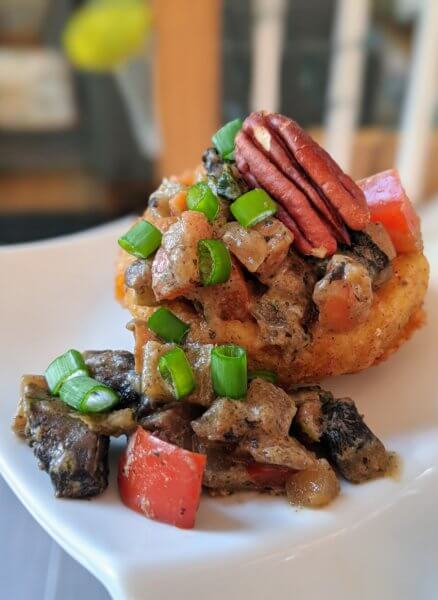 4 main course servings of three artichoke bottoms with filling (serves more as appetizers)
With this honey of a recipe, I just may have done justice to the first foodie city I ever loved: New Orleans, LA.
It's been years since I have seen artichoke bottoms in the can, so when I saw these at Harris Teeter, I snapped them up and knew I would do something as a tribute to my beloved Nola.
Bellas in Cajun Cream Sauce
1 1/2 cups water
12 ounces mirepoix
1 teaspoon sea salt
1 teaspoon veggie base or one half teaspoon veggie base and one half teaspoon roasted garlic base
1 red bell pepper, diced
6 ounces diced portabella mushrooms
3/4 cups rose wine
1 tablespoon Chesapeake Bay seasoning
1 teaspoon Cajun seasoning
1 teaspoon nori powder or dulce flakes
1 tablespoon cornstarch
3/4 cup soy half and half (I used Silk brand and am a fan)
1 teaspoon minced parsley
Fried Artichoke Bottoms
12 toasted pecan halves
1 sliced green onions
Placed 3/4 cups water, mirepoix, sea salt, and veggie base in large skillet over medium heat. Sauté, stirring frequently, until most of moisture is absorbed. Add bell pepper, mushrooms, rosé, Chesapeake Bay seasoning, Cajun seasoning, and nori powder. Continue sautéing, stirring frequently, until moisture is absorbed. Sprinkle cornstarch over the top, sir well, and gradually add half and half, stirring continually. Remove from heat and stir in minced parsley. Keep warm or reheat and serve over fried artichoke bottoms, garnished with a pecan half and thinly sliced green onion.
Fried Artichoke Bottoms
12 artichoke bottoms (approximately 2 cans)
1 cup soymilk
1 teaspoon apple cider vinegar
1/2 cup flour
1/2 teaspoon baking powder
1/2 teaspoon sea salt
Pinch black pepper
1/2 teaspoon Cajun seasoning
1/2 teaspoon garlic powder
1/2 teaspoon onion powder
1/2 teaspoon smoked paprika
1/2 teaspoon ground turmeric
In a medium bowl, combined soy milk and apple cider vinegar. Whisk and allow to curdle. Add artichoke bottoms and toss to coat. In a separate medium bowl, combine remaining dry ingredients. Line of baking sheet with paper towel and preheat oven to lowest setting. Heat oil in a deep fat fryer for deep-sided pot to 375 degrees. Dip artichoke bottoms into flour and toss to coat. Fry three at a time for approximately 2 minutes. drain well on paper towel and placing oven to keep warm. Repeat with remaining artichoke bottoms.
#vegan #veganrecipes #veganfoodshare #veganfoodporn #plantbased #plantbasedrecipes #plantbasedfoodshare #plantbasedfoodporn #vegancajun #plantbasedcajun