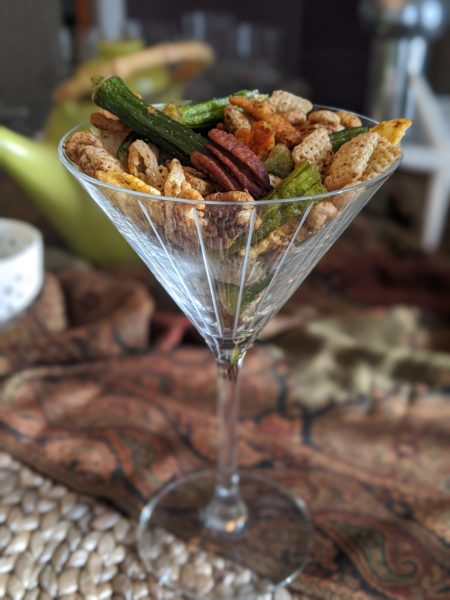 Yep, you read that title right. I am known for all manner of Chex Mix. Some leftover okra chips after our Christmas Cheer Open House inspired this particular recipe. I gave it away as a couple of New Year's gifts, but not before sampling a gracious plenty of it. Mmmm!
All of the ingredients are inspired by a bowl of gumbo: rice Chex for the rice, of course, Cheerios for the wheat that goes into French bread; Bugels for the corn as a nod in the direction of those that prefer cornbread with their gumbo; celery seed, crispy fried onions, and crispy fry bell pepper for the mirepoix; and fennel to suggest the sausage, Chesapeake Bay seasoning to suggest the seafood, and poultry seasoning to suggest the chicken that various folks prefer in their gumbo. Tomato paste and faux chicken bouillon, of course, represent the broth, along with Cajun seasoning and gumbo filet (ground sassafras). And I added pecans because they are just so darn Southern.
Feel free to play around with the spices, but I love it like it is. It's a little on the salty side, so knock back a Sazerac while you enjoy a handful …or five.
Cajun Gumbo Chex Mix
1 cup butter
1 tablespoon poultry seasoning
1 tablespoon fennel seed
1 tablespoon Chesapeake Bay seasoning
2 tablespoons Liquid Aminos
2 tablespoons tomato paste
3 tablespoons Cajun seasoning
3 tablespoons gumbo filet
7 cups Rice Chex
7 cups Cheerios
7.5 ounces bugles
2 cups pecan halves
4.5 oz Okra Chips (I use Farmers
Market brand from Harris Teeter)
6 ounces French's Crispy Fried Onions, Caramelized
5 ounces French's Red Pepper Crunchy Toppers
Preheat oven to 250 degrees. Melt butter in large roasting pan. Whisk in next 6 ingredients. Stir in remaining ingredients. Roast for 1 hour, stirring every 15 minutes. Cool completely before packaging in air tight containers.
vegan #veganrecipes #veganfoodshare #veganfoodporn #plantbased #plantbasedrecipes #plantbasedfoodshare #plantbasedfoodporn #chexmix