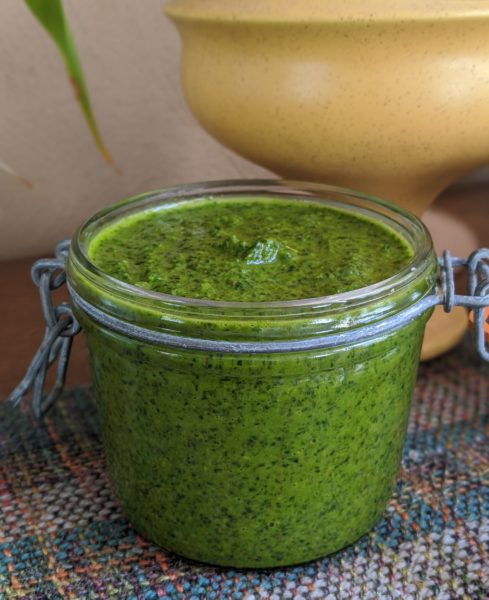 A simple chimichurri, but I went off script a bit…
I wanted to use juice from fresh limes instead of red wine vinegar, which is traditional. I did, but the flavor needed more depth, so I added just one tablespoon red wine and a tiny bit of natural sugar because it was quite tart,
Oregano is also traditional, but I had none. So I added two rounded tablespoons of Greek seasoning that contains spearmint, oregano, and dehydrated onion. I thought that would be nice, as my friend makes hers with mint. It was perfection!
1 large bunch flat leaf parsley, rinsed, patted dry, stems removed,
1 large bunch cilantro, rinsed, patted dry, stems removed, and leafy stalks torn in half
Juice of 1 to 2 fresh limes (start with 1 and taste)
1 tablespoon red wine
1 shallot, cut into small chunks
3 to 4 large cloves garlic, quartered
2 rounded tablespoons Greek seasoning (with spearmint, oregano, dehydrated garlic) or 2 level tablespoons dried oregano
1 tablespoon natural sugar (or 1 1/2 teaspoons if only using 1 lime)
1 teaspoon garlic powder
1 teaspoon onion powder
2 teaspoons salt or to taste
1/2 teaspoon freshly ground black pepper
3/4 to 1 cup olive oil
Process all ingredients except olive oil until minced. Scraow down sides of bowl. With motor running, drizzle in olive oil until desired consistency is reached. Taste and adjust seasoning. Store covered in refrigerator.
#vegan #veganrecipes #veganfoodshare #veganfoodporn #plantbased #plantbasedrecipes #plantbasedfoodshare #plantbasedfoodporn #chimichurri