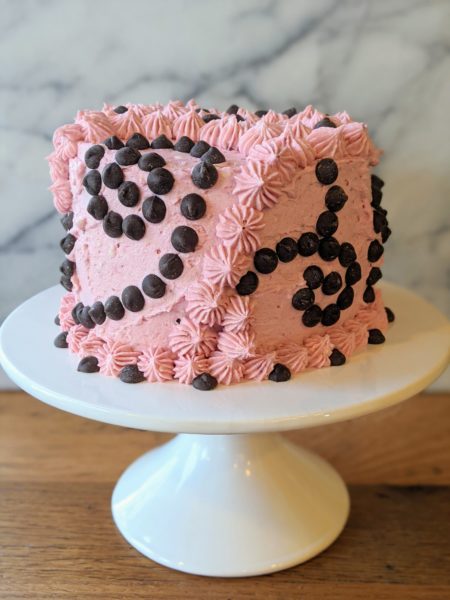 This cake is as delicious as it is beautiful. Its dark, rich, and tender layers, redolent of chocolate and coffee with notes of cinnamon and chili (which can be omitted)–are perfectly paired with a gorgeous wedding-pink berry-kissed cream cheese frosting.
If chili and fruit seems like an odd pairing, think BBQ or mole sauces and be prepared to become a believer.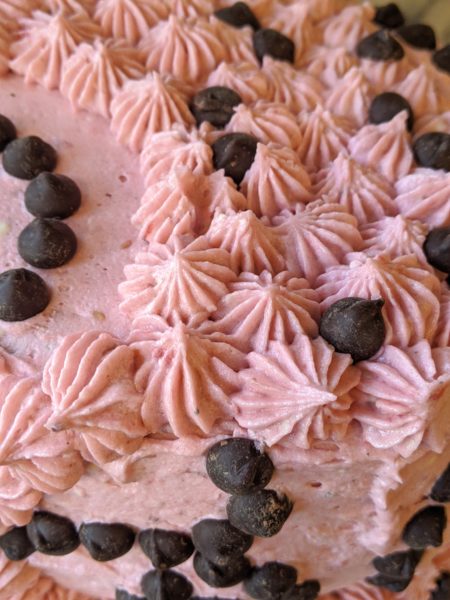 Chocolate-Chili Layer Cake with Raspberry Cream Cheese Frosting
Yield: one two-layer 6 or 7-inch cake
Note: 8- or 9-inch pans are more traditional, but I like a smaller taller stack. If you only have 8- or 9-inch pans, you will need to increase batter by about 1/3 or so.
1/2 cup vegan chocolate chips, melted
1/4 cup vegetable oil
1/4 cup vegan sour cream
1/2 cup water
1/2 cup strong coffee
1/2 cup non-dairy milk (I used unsweetened soy milk)
2 teaspoons vanilla extract
1 and 1/2 cups all purpose flour
1/2 cup cocoa powder infused with ground chilis, cinnamon, and sugar (if this is not readily available, simply add 1/8 to 1/4 teaspoon cayenne pepper or ancho chili powder and 1/2 to 1 teaspoon cinnamon, along with increasing slightly the amount of sugar as indicated below)
1/2 cup natural sugar (or slightly more If cocoa powder is not sweetened)
2 tablespoons flaxseed meal
1 and 1/2 teaspoons baking powder
3/4 teaspoons baking soda
1/2 teaspoon salt
Raspberry Cream Cheese Buttercream (recipe follows)
Preheat oven to 350. Spray two 6 or 7-in round cake pans with non-stick spray. With a pencil, trace around the bottoms on parchment paper, cut out, line bottoms of pans with circles of parchment paper with the pencil side down, and spray bottoms again with non-stick spray.
Whisk together all wet ingredients in large mixing bowl. In medium mixing bowl, whisk together dry ingredients and stir into wet ingredients in thirds. Whisk until batter is very smooth, up to 100 strokes if necessary. Divide batter evenly between pans and bake for 25 minutes or until a toothpick inserted in center comes out clean. Cool in cake pans on wire rack for 10 minutes. Run knife around edges, invert onto wire rack, and cool completely. Frost with Raspberry Cream Cheese Buttercream.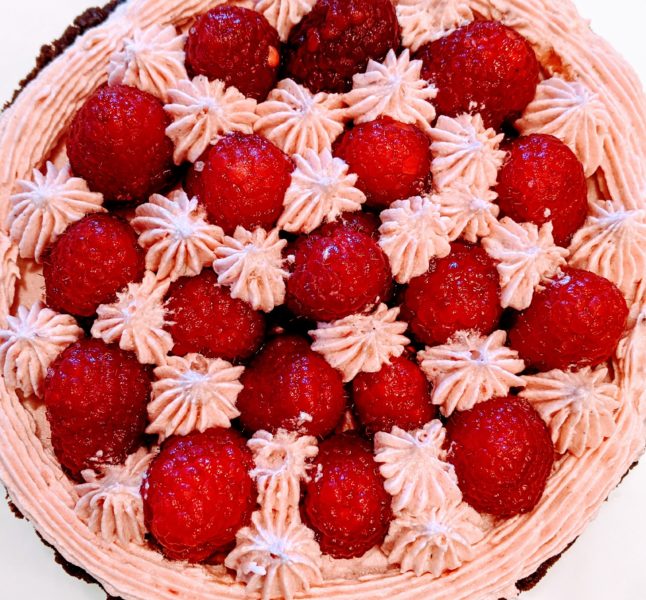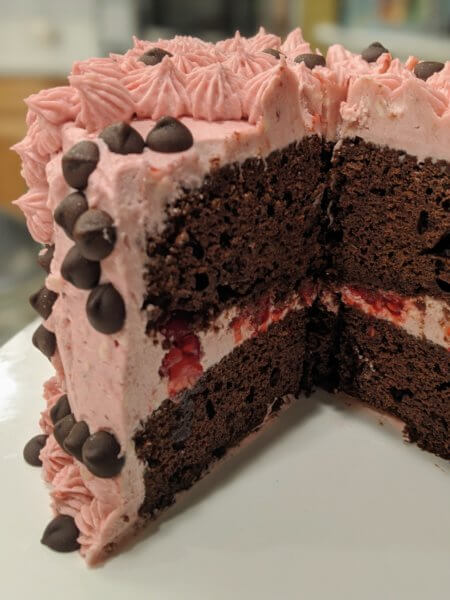 Raspberry Cream Cheese Buttercream
The night before frosting cake, sprinkle 6 ounces fresh raspberries with 2 tablespoons natural sugar, cover, and refrigerate.
4 ounces (1 stick or 1/2 cup) vegan butter, softened
4 ounces vegetable shortening
4 ounces vegan cream cheese, softened
2 tablespoons raspberry jam
1 teaspoon vanilla extract
1 pound confectioners sugar
1/2 cup vegan chocolate chips
With an electric mixer, cream together vegan butter, shortening, cream cheese, jam, vanilla and half of raspberries until smooth. Beat in confectioners sugar, a half cup at a time until desired consistency is reached. Spread 1 tablespoon on cake plate and center bottom layer over it to anchor in place. Spread about 1/3 cup frosting on bottom layer. Place about 1 cup in piping bag fitted with a large star tube and pipe a ring around the edge as a dam. Fill with remaining half of raspberries. Pipe stars of frosting between berries if desired. Place top layer over and press down firmly. Frost sides and top with remaining frosting in bowl and decorate with piped frosting stars and chocolate chips as desired.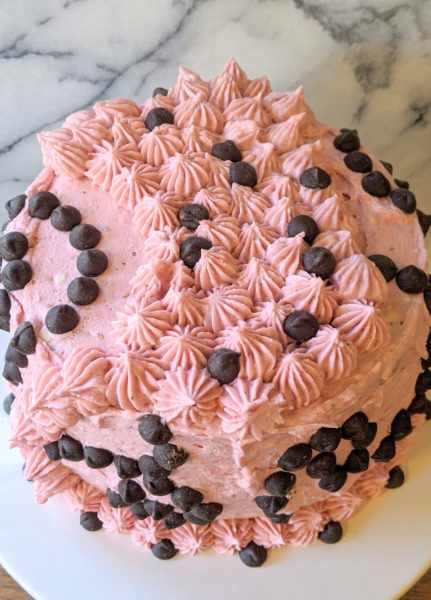 #vegan #veganrecipes #veganfoodshare #veganfoodporn #plantbased #plantbasedrecipes #plantbasedfoodshare #plantbasedfoodporn #chocolatecake #raspberrycreamcheesefrosting