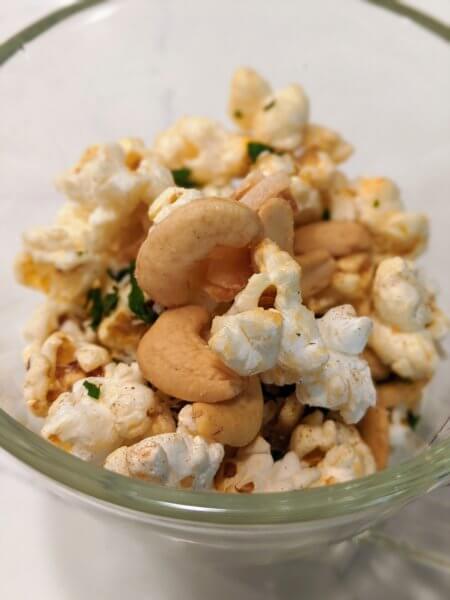 Yield: 1 cup (easily multiplies)
Multitasking led to this fabulous flavor combination. I was making Indian coconut curry red lentild for the week, and was a little hungry because it was almost lunch time and I hadn't eaten breakfast.
I spied some kettle popcorn in the pantry and popped a few pieces in my mouth. I suppose because I was smelling the aroma of the curry at the same time that I was savoring the popcorn, I instantly knew the flavors with marry beautifully. Textures too.
And this snack goes together in a flash. However much you make, you'll wish you'd made more!
1 cup vegan kettle corn
1/4 teaspoon garam marsala
1/2 teaspoon unsweetened flaked coconut
1 teaspoon nutritional yeast
2 teaspoons roasted and lightly salted cashew halves and pieces
Pinch minced cilantro (I purchased the fresh dried already minced)
Toss together and devour immediately!
#vegan #veganrecipes #veganfoodshare #veganfoodporn #plantbased #plantbasedrecipes #plantbasedfoodshare #plantbasedfoodporn #veganindianpopcorn #vegansnacks #plantbasedsnacks #plantbasedindianpopcorn #vegancurrypopcorn #plantbasedcurrypopcorn