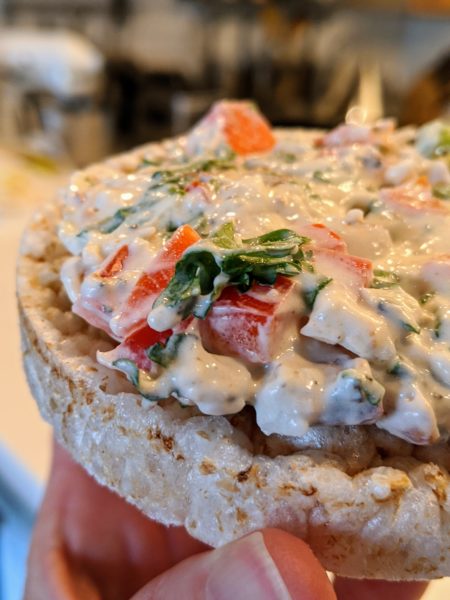 Super Bowl noshing with all the flavor and none of the guilt!
Starving in the late afternoon last Sunday, but going out for Chinese that night, I needed something low-calorie but filling to tide me over.
A fridge and pantry scan resulted in this creamy, delicious, and colorful spread on a rice cake.
Confetti Dip or Spread
Yield: 2.5 cups
1/4 cup vegan sour cream
1/4 cup no-calorie mayo (I purchase at Harris Teeter) or 8-calorie/tablespoon Blooming Platter Mayo
1/4 cup vegan parmesan
1/4 cup vegan mozzarella
1/4 cup diced bell pepper (I use red)
1/4 cup finely chopped parsley
2 green onions, thinly sliced
1/2 teaspoon or so Liquid Aminos
1/8 teaspoon garlic powder
1/8 to 1/4 teaspoon spice of choice (I use Japanese Seven Spice)
Sea salt and freshly ground pepper to taste
Mix all together in a medium bowl. Cover and refrigerate for 30 minutes if possible to allow flavors to meld. Serve on rice cakes or stuffed in celery sticks.
vegan #veganrecipes #veganfoodshare #veganfoodporn #plantbased #plantbasedrecipes #plantbasedfoodshare #plantbasedfoodporn #lowcaloriedip #lowcaloriespread