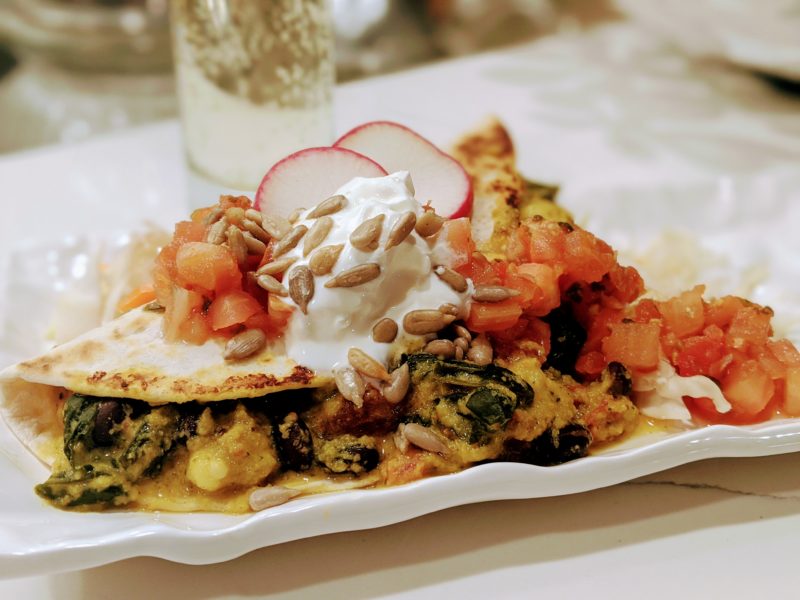 This entire delicious, nutritious, and beautiful recipe is only 1,000 calories. It is irresistible served with raw vegetables or chips as a dip, served over Fritos like a Frito Pie, or used as a filling for quesadillas (as photographed) or enchiladas.
I typically make my queso with cauliflower only, but I happened to have a bag of both cauliflower and broccoli. Since I was going to be stirring in spinach and other goodies, I figured the green flecks would not be a distraction.
I was right!
12 ounces cauliflower and broccoli florets, steamed or microwaved covered with water until tender; reserve at least one cup cooking water
1/2 cup nutritional yeast
2 tablespoons light miso
1 teaspoon stone ground mustard
1/2-1 teaspoon ancho chili powder
1/2-1 teaspoonChipotle chili powder
1/2-1 teaspoon smoked paprika
1 teaspoon garlic powder
1 teaspoon onion powder
1 can diced tomatoes with cilantro and lime
1 can black beans, rinsed and drained
1 cup chopped steamed spinach
1 can hominy or fire roasted corn, rinsed and drained
In a food processor fitted with a metal blade, process steamed cauliflower and broccoli, nutritional yeast, miso, mustard, both chili powders, smoked paprika, and garlic and onion powder until smooth, adding about 1 cup cooking water, 1/4 cup at a time, to achieve a thick sauce like consistency.
Transfer to a large saucepan, bring to a simmer, adding more water if necessary, and stir in all remaining ingredients.
#vegan #veganrecipes #veganfoodshare #veganfoodporn #plantbased #plantbasedrecipes #plantbasedfoodshare #plantbasedfoodporn #queso #lowcalorie #quesadillafilling #enchiladafilling