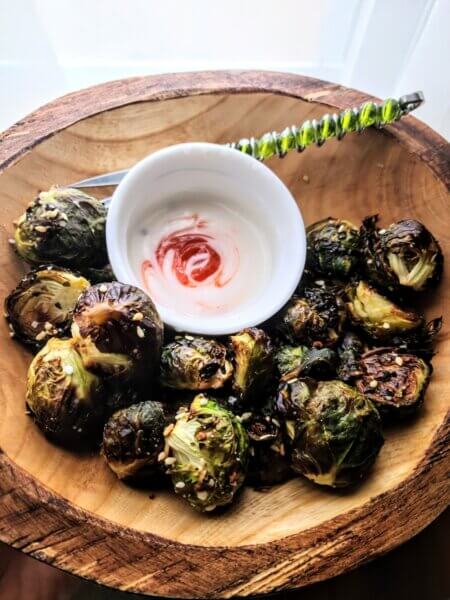 Crispy Everything Bagel Brussels Sprouts with, what else? A plant-based cream cheese dipping sauce with a swirl of Sriracha.
Requiring only 20 to 25 minutes hands-free cookies time, these nuggets are ready in the time it takes to walk one
12 ounces Brussels, halved
1 tablespoon olive oil
1 teaspoon sea salt
1 teaspoon or so Everything Bagel Seasoning
Preheat oven to 400 degrees. Toss together above ingredients, spread into a single layer on a rimmed baking pan, cut side down, and roast for 20 to 25 minutes or until crispy and browned. Serve with barely melted plant-based cream cheese (I zap in mic), whisked and swirled with a bit of Sriracha.
#brusselssprouts #vegan #veganrecipes #veganfoodshare #veganfoodporn #plantbased #plantbasedrecipes #plantbasedfoodshare #plantbasedfoodporn #vegansofinstagram #vegansoffacebook #vegansofvirginia #thebloomingplatter