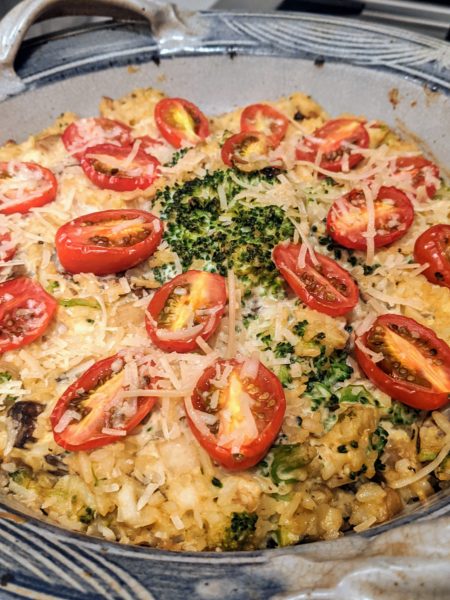 2-8 or 9″ quiche
Bob is famous for his dairy quiche, but at a recent family brunch, 6 slices of his were eaten and 14 of mine! Plates scraped clean. Vegan quiche for the win!
This is a great recipe for when you have leftover white rice, say from Chinese takeout as we frequently do. But feel free to try it with wild rice, black rice, or whatever type you prefer.
When sautéing the vegetables, I sauté them all together, using a little water or stock.
This recipe is made for tailoring to make it your own by substituting a variety of seasonal vegetables.
Quiche Base
1 pound firm or extra firm tofu, drained
2 1/2 tablespoons cornstarch
1/4 cup nutritional yeast
2 to 4 tablespoons unsweetened non-dairy milk (I use soy) or enough to achieve a consistency slightly thinner than brownie batter
2 tablespoons light miso
2 tablespoons favorite vegan salad dressing, pesto, or sauce–something with some oomph, even stone ground mustard
Sea salt and freshly ground black pepper to taste
1 teaspoon liquid aminos
1 teaspoon onion powder
1 teaspoon garlic powder
Add-Ins
1 small to medium yellow onion, diced and sauteed
One red bell pepper, diced and sauteed
6 to 8 oz sliced mushrooms, sauteed
12 ounces broccoli florets, steamed or sauteed
4 cups rice
1 cup shredded vegan mozzarella cheese
Garnishes
Halvef grape tomatoes
Four tablespoons vegan parmesan
Preheat oven to 350°. Grease two 8 or 9-inch pie pans. Process all quiche base ingredients in large food processor until smooth, scraping down sides as necessary. Divide between two large mixing bowls and place half of the add-ins in each bowl. Fold to mix thoroughly. Divide between prepared pie pans and gently smooth to edges. Garnish each with halved grape tomatoes and two tablespoons each vegan parmesan. Bake for approximately 30 minutes. Avoid drying out. Enjoy hot, warm, or room temperature.
#vegan #veganrecipes #veganfoodshare #veganfoodporn #plantbased #plantbasedrecipes #plantbasedfoodshare #plantbasedfoodporn #veganquiche #plantbasedquiche