Yield: 2 pieces naan (easily multiplies)
I split the atom with this recipe! It checks all of my boxes for what I did and did not want from my naan.
First, it had to be flavorful AND soft: a little pillowy and a hint chewy. I did not want to use yeas—which is hard to come by at the moment–nor spend time on even a short rise. And I didn't want to use vegan yogurt because I never purchase it, as I don't care for the flavor or the texture.
One recipe I read indicated that substituting buttermilk for yogurt made no difference, so I used homemade vegan "buttermilk." But I still feared that, without yeast, the dough wouldn't be soft enough, so I added both baking powder and soda, the latter of which would be activated by the vinegar. Finally, not wanting to take the time to create a vegan garlic butter, I added a pinch of garlic powder to the dough.
That's it! The perfect naan that you can customize with your favorite flavors from garlic to cilantro and more.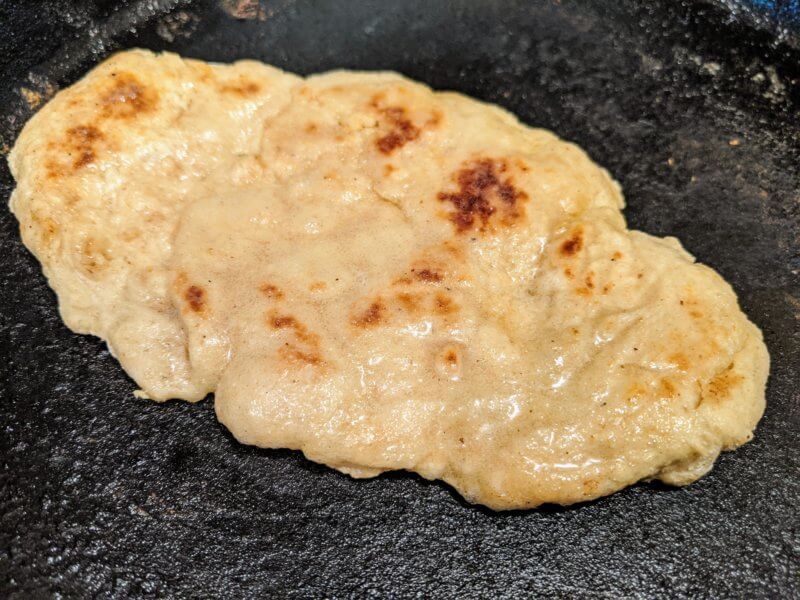 1/4 cup unsweetened soymilk
1 teaspoon apple cider vinegar
1/2 cup flour + more for dusting work surface
1/4 teaspoon sea salt
1/4 teaspoon baking powder
1/4 teaspoon baking soda
1/8 teaspoon garlic powder
1 to 2 tablespoons vegan butter, garlic butter, or butter-oil combination
In a small cup, whisk together soymilk and vinegar. In a medium size bowl, whisk together 1/2 cup flour and remaining ingredients, except vegan butter. With a fork, mix wet ingredients into dry until dough comes together. Melt butter in skillet over medium to medium high heat. Divide dough into two balls and press or roll out to about 1/4 in thick discs on a lightly floured surface. Lay in skillet and then flip over to oil both sides. Cook for a couple of minutes on first side or until golden with a few brown spots, flip and cook for a couple minutes longer. Adjust heat as necessary. Serve immediately.
#vegan #veganrecipes #veganfoodshare #veganfoodporn #plantbased #plantbasedrecipes #plantbasedfoodshare #plantbasedfoodporn #naan #yeastfreenaan #Norisenaan #yogurtfreenaan #Indiannaan