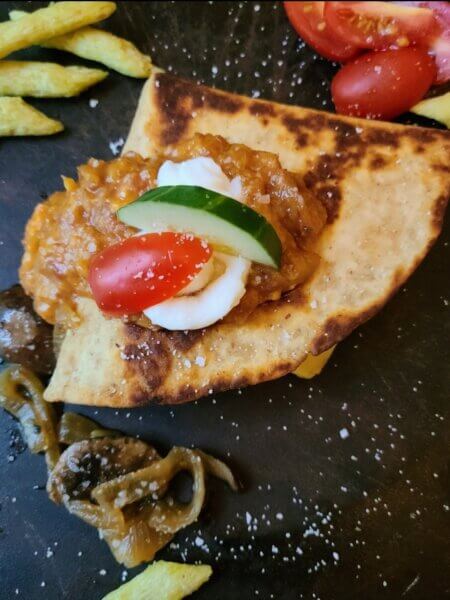 A gift from one of my student's mom's of fresh South Carolina peaches resulted in the need to do something with the last 2 very ripe ones.
I lead a fairly busy life and I am all about unfussy, but pretty, healthy, and inspiring food these days. So I simply pitted the peaches, popped them into them into my small food processor skin and all, and blended them into a thick, pulpy jam.
That's it. They were so sweet, with a perfect texture, that they needed nothing else. I thought about putting the jam on pancakes, but I wasn't in the mood for that much flour.
To make the quesadilla, I simply folded a large tortilla–I like the 50 calorie high fiber variety–into quartets around 1 slice of vegan smoked guda and leftover caramelized onions and sauteed mushrooms. I browned it in a nonstick skillet, and topped it with the peach jam and a garnish of halced grape tomatoes and a slice of cucumber.
I served crispy green peas on the side and sprinkled a hint of sea salt over it all because we southerners know that salt makes fruit even sweeter and because it looks so pretty.
#vegan #veganrecipes #veganfoodshare #veganfoodporn #plantbased #plantbasedrecipes #plantbasedfoodshare #plantbasedfoodporn#vegansofinstagram #vegansoffacebook #vegansofvirginia #veganpeachjam #veganquesadilla #plantbasedpeachjam #plantbasedquesadilla