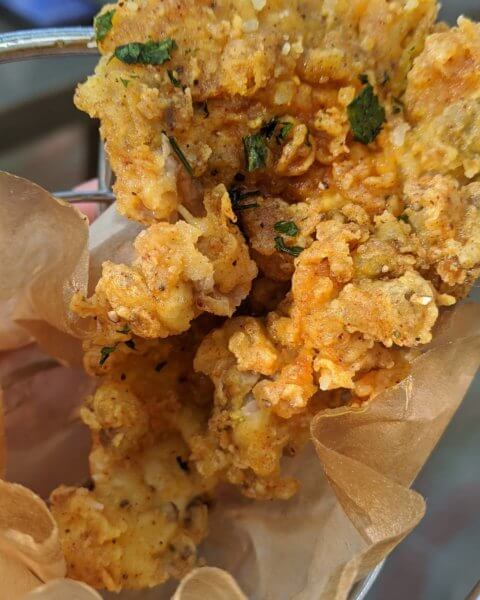 We don't deep fry terribly often, but when we do, we go for perfection. And we don't own nor want an air fryer!
I use the classic wet-then-dry method, one hand for each, and I recommend a broader, shallow pan for the dry so mushrooms can be dredged a few at a time while keeping the flour mixture from turning to glue as soaked mushrooms are transferred to it.
Start with about 3 to 4 ounces oyster mushrooms, quickly rinsed and patted dry. Break apart and discard any tough stems.
In a medium bowl, soak them for a few minutes in enough soymilk to almost cover, about 3/4 cup, curdled with 1 teaspoon apple cider vinegar and seasoned with about 1/4 teaspoon each sea salt, garlic powder, and onion powder, and then dredge them in seasoned flour.
My seasoning of choice is equal amounts sea salt, garlic powder, onion powder, ground turmeric, smoked paprika, Cajun seasoning, Chesapeake Bay seasoning, or, if you want to push them in a fried chicken tender direction, poultry seasoning, and baking powder plus half as much black pepper. So, for 1/2 to 3/4 cup flour, I use about 1/2 teaspoon each with 1/4 tsp for the black pepper. (The amount of seasoning is approximate, use a greater ratio if you like a more assertive flavor.)
These fry up right quickly, a few at a time: just one minute at 375°. Drain on paper towels and serve with ketchup, vegan tartar sauce or garlic aioli, and a light squeeze of lemon. Sprinkle a tiny bit of minced parsley over the "oysers" if desired.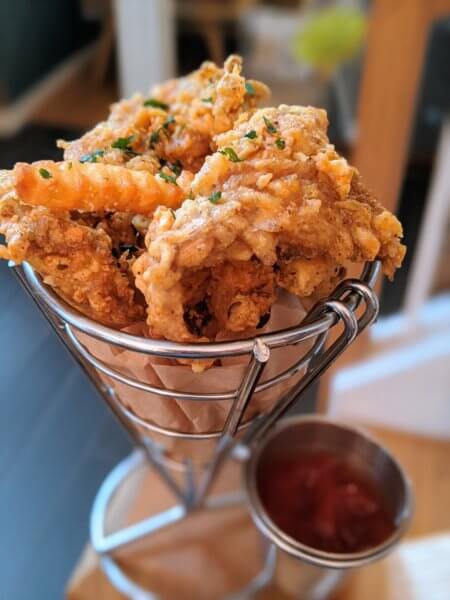 #vegan #veganrecipes #veganfoodshare #veganfoodporn #plantbased #plantbasedrecipes #plantbasedfoodshare #plantbasedfoodporn #friedoystermushrooms #friedveganchickentenders