Yield: 4 to 6 main dish servings
You will want this sweet-spicy-salty-savory Korean-inspired potato salad over and over with one caveat: only if you don't use a bland white potato.
When I first developed this recipe, I used cute baby white potatoes. But they simply didn't bring enough to this flavorful party. After that, it was Yukon golds or sweet potatoes. Perfection!
If you prefer not to use seitan, add another half-pound potatoes. Add if you are calorie counting, substitute cauliflower florets for all.
For a fun, over-the-top serving suggestion, rim martini glasses with Gochujang and roll in finely chopped peanuts. Note that I was starving and didn't chop the nuts finely, but it would look more professional if I had.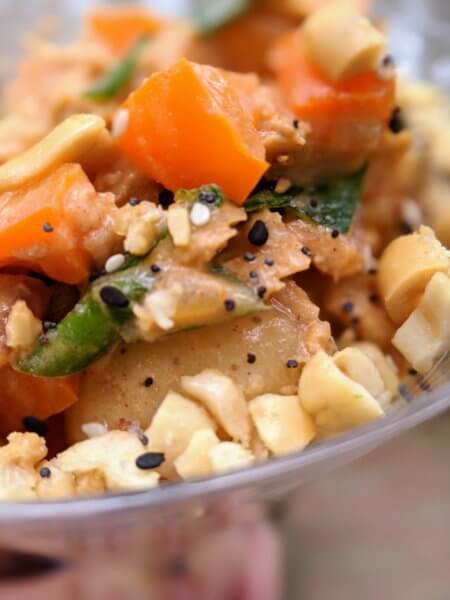 1.5 pounds Yukon gold or sweet potatoes, cubed (you may substitute cauliflower florets)
1 medium red onion, diced (approximately 1/2 cup or more)
1 tablespoon rice wine vinegar
1/3 to 1/2 cup vegan mayo
1 tablespoon gochujang
1 tablespoon sweet pickle relish
1 teaspoon grated ginger (I use the paste in a squeeze bottle)
1 teaspoon sesame oil
1-2 cloves minced garlic
1 orange bell pepper, diced (may substitute red or yellow)
2 green onions, thinly sliced on diagonal
8 ounces flavorful seitan (I use Tofurky Sesame-Garlic)
Sea salt to taste
Freshly ground black pepper to taste
Garnishes: lightly roasted and salted peanuts, diagonally sliced green onion, and Everything Bagel Seasoning (or black and white sesame seeds)
Place potatoes in a medium pot and cover with salted water to 1-inch above potatoes. Bring water to a boil, reduce to a simmer, and cook about 8 minutes, partially covered. Potatoes should be fork tender.
Meanwhile, place red onion and vinegar in a medium bowl and set aside. In a small bowl, combine mayonnaise, gochujang, relish, ginger, garlic, and sesame oil, and refrigerate.
When the potatoes are cooked, drain and add to bowl with onion and vinegar. Gently toss well to coat. Cool for 30 to 45 minutes until barely warm. Stir in bell pepper, green onions, and seitan. Spoon mayonnaise mixture over, and toss gently to coat. Season to taste with salt and pepper. Serve, garnished with peanuts, green onions, and Everything Bagel Seasoning. Or refrigerate, covered, for several hours, then garnish and serve.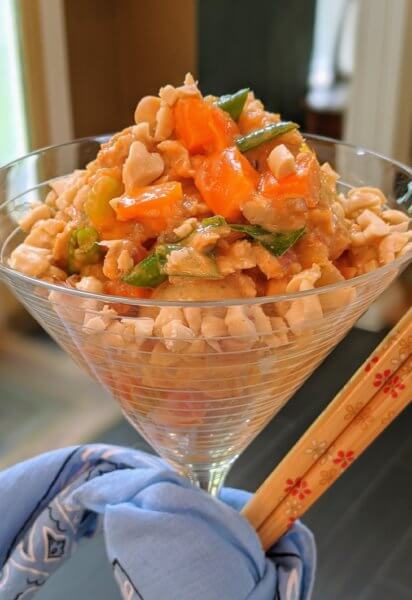 #vegan #veganrecipes #veganfoodshare #veganfoodporn #plantbased #plantbasedrecipes #plantbasedfoodshare #plantbasedfoodporn #veganbread #plantbasedbread #Gochujangpotatosalad
#veganpotatosalad