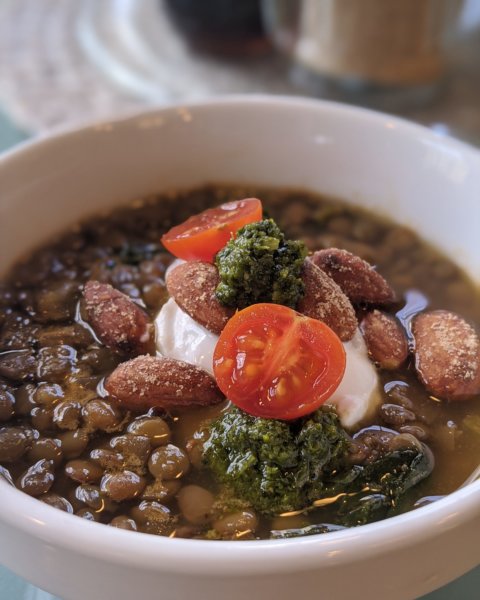 I am cooking the pantry and fridge amidst the Coronavirus pandemic trying to make the cheap staples last, but spiffing them up with judicious amounts of garnishes: garlic-herb lentil soup with homemade line crema, Chimichurri, halved grape tomatoes, and smoked almonds.
This isn't much of a recipe; more of an approach: when Bob went to the grocery store–what I am starting to call the fringe of the frontier–he found a bag of brown lentils, rather than the red ones I had requested, that came with a little vegan herb and garlic pack. (We may have strong supply lines in America, but the runs on the grocery stored are making it look and feel an awful not like food scarcity.)
So I just cooked about 1/3 to 1/2 cup each diced celery, onion, and carrot in a tablespoon of olive oil, added the rinsed lentils and 10 cups of water, cooked them until they were soft, then stirred in four handfuls of baby spinach and about a couple of tablespoons of ketchup because I didn't have tomatoes. Oh, and a little white wine went in with that broth. They are honestly delicious.
To serve, I dolloped a little vegan lime crema on top along with hree dabs homemade chimichurri, a halved cherry tomato, and a sprinkling of smoked almonds.
Here's to not hoarding but having plenty!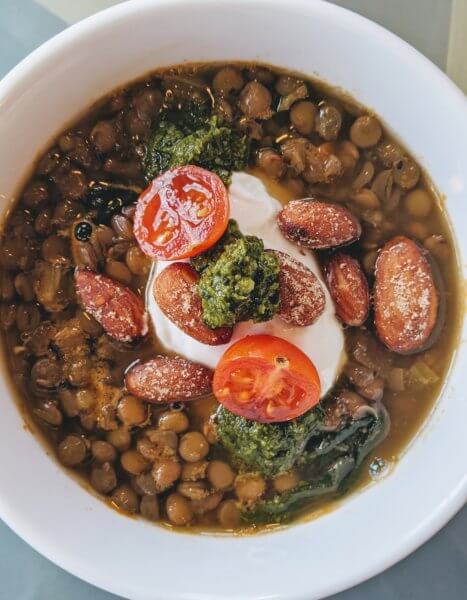 #vegan #veganrecipes #veganfoodshare #veganfoodporn #plantbased #plantbasedrecipes #plantbasedfoodshare #plantbasedfoodporn #lentilsoup #coronavirus