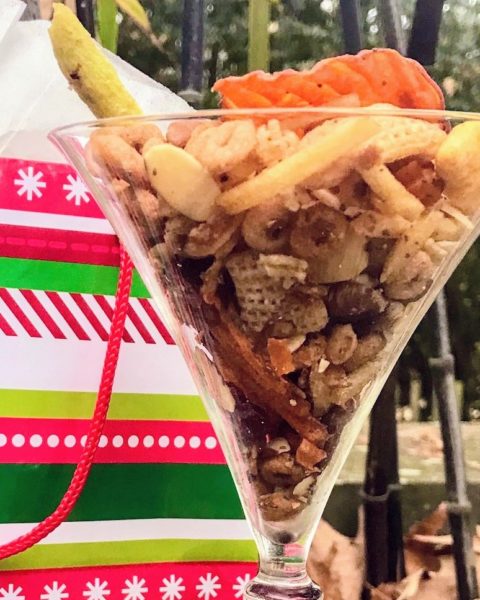 All the flavors of a holiday meal in a Check Mix!
This stuff should come with a warning label…or be regulated by the FDA.
I was inspired by stuffing, side dishes, casseroles, and even a sage and rosemary infused main dish. It took me two tries to get the proportions just right, but now it is ready for its big reveal.

For freelance clients-friends, I packaged it in ziplock bags inside cute holiday canisters adorned with mid-century modern campers that I found at Dollar Tree. They never let me down. Enjoy!
1 cup vegan butter
2 tablespoons soy sauce or Liquid Aminos
2 tablespoons poultry seasoning
2 tablespoons celery seed (not celery salt)
1 tablespoon onion powder
1 tablespoon garlic powder
3 cups Wheat Chex
3 cups Cheerios
2 cups Bugles
1-6 ounce bag sweet potato chips (I like Terra brand)
2-3.3 ounce bags lightly salted green bean snack crisps (I purchased Harvest Crisp brand.)
1-5 to 6 ounce can potato sticks
2 cups canned crispy fried onions (French's brand or a store brand)
1 cup pecan halves
1 cup sliced almonds
Preheat oven to 250 degrees. Place butter, cut into small chunks, in a large roasting pan and let melt as oven preheats. Add next 5 ingredients and whisk to combine. Then stir remaining ingredients in order into the butter mixture. Roast for 1 hour, stirring gently every 15 minutes. Allow to cool and package as desired in airtight containers.
vegan #veganrecipes #veganfoodshare #veganfoodporn #plantbased #plantbasedrecipes #plantbasedfoodshare #plantbasedfoodporn #chexmix #veganchexmix #holidaychexmix #plantbasedchexmix #madewithchex