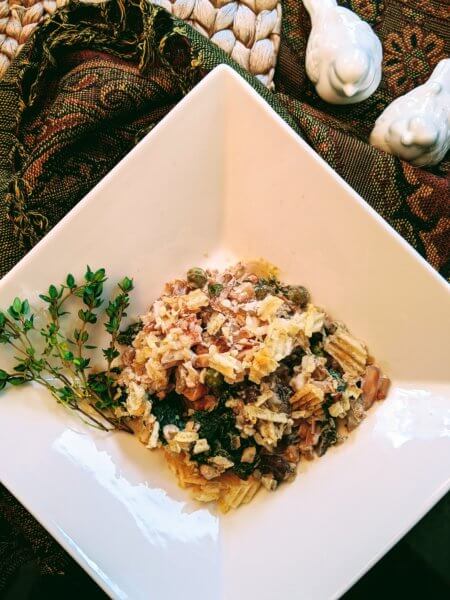 Yield: 6 servings
Lightened up comfort food from my childhood is one of my favorite categories of recipes to veganize. This one a combination of a hot chicken salad and a chicken and rice casserole, only it contains neither chicken–or even a substitute–or rice. I substitute riced cauliflower for the rice and meaty mushrooms for the chicken.
I'm always looking for ways to boost the color and nutrition of recipes. So I use mirepoix instead of just celery and onion to infuse some carrot into the mix. And curly kale leaves seemed the perfect green addition, along with the green peas which are mandatory in chicken and rice casserole.
Some of these casseroles are topped with cheddar and some with mozzarella. I just think of cheddar with broccol–or with southwestern or Mexican dishes–so I chose mozzarella. Whatever you do, don't leave off the potato chip topping. This casserole is so nutritious and low in calories that you can splurge on the rich buttery crunch of the Ruffles.
Note: I cook the vegetables in the microwave for ease, but feel free to simmer/saute stovetop if you prefer.
Hot Chicken-un Salad Casserole w/ Crushed Potato Chip Topping
8 ounces cauliflower rice
1 cup mirepoix (approximately 1/3 cup each diced onion, celery, and carrot)
8 ounces sliced baby Bellas or other white mushrooms
7 to 8 ounces curly kale leaves, thick stems removed
1/2 cup green peas
1/2 cup slivered almonds
1 teaspoon fresh lemon thyme or thyme
1/2 teaspoon garlic powder
1/2 teaspoon onion powder
1/4 teaspoon poultry seasoning
3/4 cup mayonnaise (I use no calorie mayo from Harris Teeter) OR vegan sour cream
1/2 cup shredded vegan mozzarella cheese
1 1/2 to 2 cups crushed Ruffles potato chips
Grease a 9×13-inch casserole dish and set aside. In a medium-large bowl, place riced cauliflower and mirepoix. Cover with water and microwave for 10+ minutes or until veggies are VERY tender, as they will not cook much in oven. Drain and return vegetables to bowl. Place kale in another similarly sized bowl and microwave for approximately 3 minutes or until wilted and bright green. Add to other vegetables along with all remaining ingredients, except cheese and potato chips. Fold vegetable mixture together until completely mixed. Transfer to grease casserole dish and sprinkle top evenly with vegan mozzarella and crushed potato chips. Bake for 30 minutes.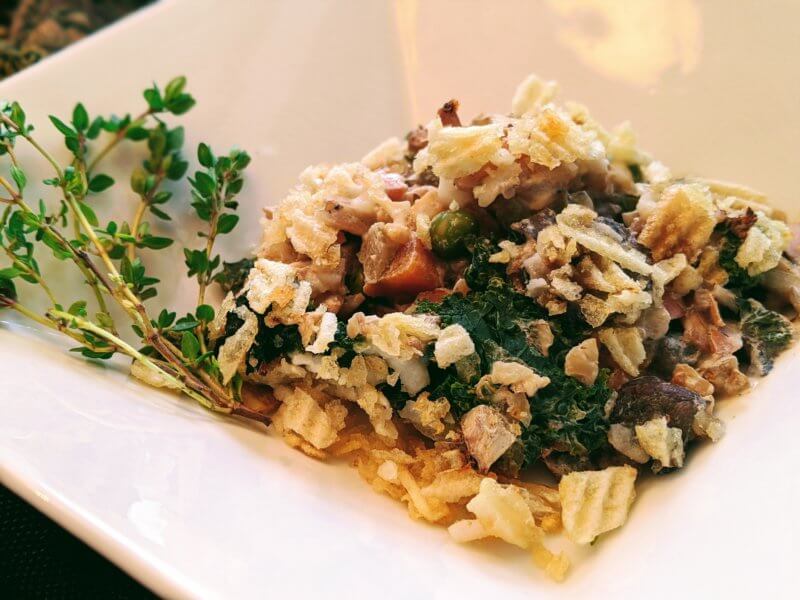 #vegan #veganrecipes #veganfoodshare #veganfoodporn #plantbased #plantbasedrecipes #plantbasedfoodshare #plantbasedfoodporn #veganchickencasserole #veganchickensalad