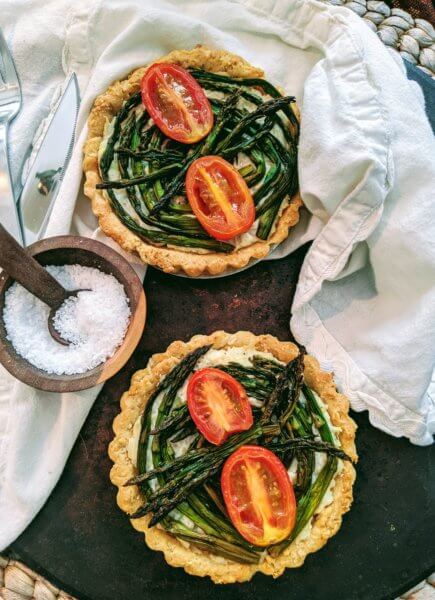 Yield: 4-5-inch tartlets or 1-8 to 10-inch tart
The layered flavors of these fresh and springy tartlets (or tart) belie their simple and quick preparation, including the press-in crust. You can even make the crust(s) ahead of time, store in the fridge, and then prep is only about 15 minutes, including baking time. If you have a peanut allergy, you can omit or substitute a different nut, but the spicy peanuts create a beautiful aroma and flavor. Feel free to substitute other cheeses and vegetable toppings for endless flavor combinations. It won't necessarily be Italian, but it will be delicious.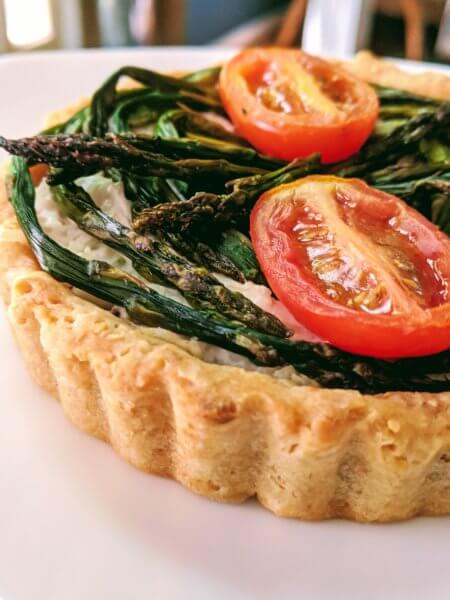 Crust:
1 cup flour (I used white, as I was lucky to find that in this pandemic, but I prefer white whole wheat)
1/2 cup spicy sriracha peanuts, finely ground in food processor (you may substitute another nut or the same amount of flour)
1/2 teaspoon salt (or less if nuts are salted)
1/4 cup vegetable oil
1/4 cup unsweetened non-dairy milk (I use soy; you may need slightly more)
Preheat oven to 400 degrees. Place tartlet or tart pans on a baking sheet. Combine all crust ingredients in a medium bowl blending with your fingers and/or a fork. Divide among tartlet pans or transfer all of mixture into large tart pan. Using your fingers and, if desired, the bottom of a glass, evenly press dough onto the bottom and sides of pan(s). Doc or prick the bottom and sides of crust with a fork. Bake 12 minutes or until golden brown. While crust(s) bake prepare filling.
Filling:
1/2 cup vegan cream cheese, nut crema, blended tofu, etc. (I use the latter, but it just needs to be thick and creamy with a fairly sturdy body, so not, for example aquafaba or a salad dressing; vegan sour cream might work)
Optional, but delicious: 1 teaspoon fresh lemon juice
1/4 teaspoon sea salt
1/4 teaspoon garlic powder
1/4 teaspoon onion powder
1/2 cup shredded vegan mozzarella
1/2 teaspoon shredded vegan Parmesan
2 thinly sliced green onions, both white and green parts
Very thin roasted asparagus spears or other roasted vegetables
4 or more halved cherry tomatoes
In a medium bowl, combine all ingredients, except asparagus and cherry tomatoes, well with a fork. Spoon into tart shells, dividing evenly if making tartlets, arrange asparagus and tomatoes on top, and bake for 12 minutes. Cool enough to handle, remove tart(s) from pan(s), and serve immediately.
#veganvegetabletart #plantbasedvegetabletart #vegancheesetart #plantbasedcheesetart #pressinpiecrust #vegan #veganrecipes #veganfoodshare #veganfoodporn #plantbased #plantbasedrecipes #plantbasedfoodshare #plantbasedfoodporn