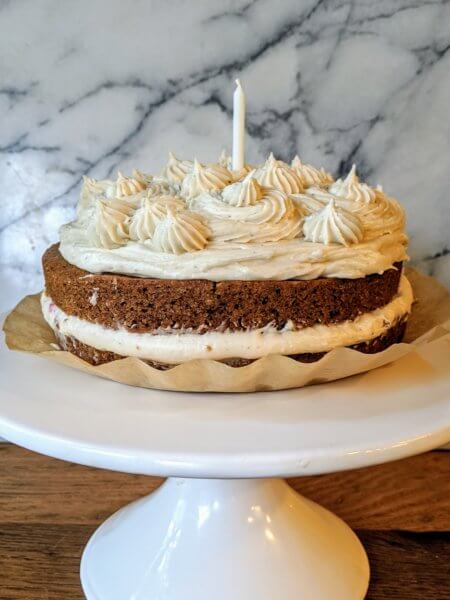 Lavender-Earl Grey Layer Cake with Lavender-Earl Grey-Cointreau Cream Cheese Frosting and Lavender-Blueberry Preserve Filling
I created this cake today for my sister's birthday. I live in Virginia, she lives in Mississippi, so we celebrated long distance. As a high school art and art history teacher with schools ordered closed by our Governor, I have been trying to work about 5 hours and then treat myself with some other activity. Today, it was baking, a second set of dog walks, and Prosecco sipping while bundled up on the deck.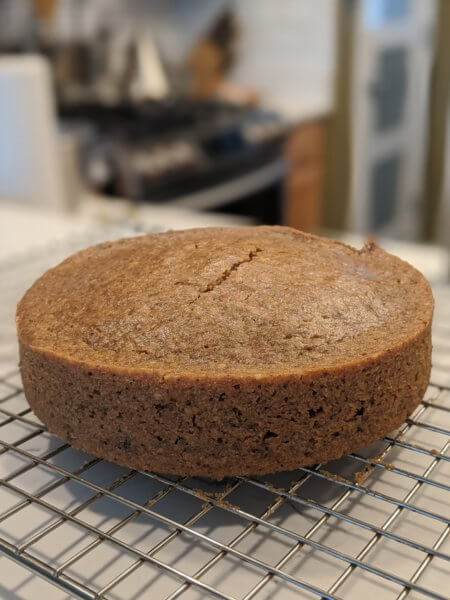 Yield: one two-layer 6 or 7-inch cake
Note: an 8- or 9-inch pan is more traditional, but I like a smaller taller stack. If you only have an 8- or 9-inch pan, you will need to increase batter by about 1/3 or so.
1/2 cup + 2 tablespoons non-dairy milk (I used unsweetened soy milk)
2 generous tablespoons Lavender-Earl Grey loose tea
1/4 cup vegetable oil
1/4 cup water
2 tablespoons vegan sour cream
1 teaspoons vanilla extract
Optional:1/2 to 1 teaspoon lavender extract
3/4 cup all purpose flour
3/4 cup natural sugar
2 tablespoons flaxseed meal
3/4 teaspoons baking powder
1/4 teaspoon baking soda
1/4 teaspoon salt
Lavender-Earl Grey-Cointreau Cream Cheese Frosting (recipe follows)
1/4 to 1/3 cup lavender-blueberry preserves (or plain blueberry with optional 1/4 teaspoon lavender extract stirred in)
Preheat oven to 350. Grease and flour a 6- or 7-in round cake pan or spray with non-stick baking spray. Pour non-dairy milk into a small saucepan or microwave-safe cup or bowl. Stir in loose tea and heat stovetop or in microwave until simmering, steep a couple of minutes, and then strain through a fine strainer into another cup. Cool.
Whisk together 1/2 cup tea-infused milk and remaining wet ingredients in large mixing bowl. In medium mixing bowl, whisk together dry ingredients and stir into wet ingredients in thirds. Whisk just until batter is smooth. Pour batter into prepared pan and bake for 25-27 minutes or until a toothpick inserted in center comes out clean. Cool in cake pan on wire rack for 10 minutes. Run knife around edges, invert onto wire rack, and cool completely. While cake cools make Lavender-Earl Grey-Cointreau Cream Cheese Frosting.
Lavender-Earl Grey-Cointreau Cream Cheese Frosting
3 tablespoons vegan butter, softened
3 tablespoons vegetable shortening
3 tablespoons vegan cream cheese, softened
1 to 2 tablespoons tea-infused milk
1 tablespoon Cointreau or Triple Sec
1 teaspoon vanilla extract
Optional: 1/2 to 1 teaspoon lavender extract
3/4 pound confectioners sugar (3/4 one-pound bag)
With an electric mixer, cream together vegan butter, shortening, cream cheese, tea-infused milk, Cointreau, vanilla, and lavender extract. Beat in confectioners sugar, a half cup at a time until desired consistency is reached. Using a serrated knife, cut cake in half crosswise. Spread 1 tablespoon frosting on cake plate and center bottom layer over it to anchor in place. Spread about 1/3 cup frosting on bottom layer. Place all but about 1/3 cup frosting in piping bag fitted with a large star tube and pipe a ring around the edge as a dam. Fill with blueberry preserves. Place top layer over and press down gently. Frost top with remaining 1/3 cup frosting in bowl and decorate with piped frosting swirls.
Refrigerate until serving time, but allowed to come to room temperature before serving for best flavor.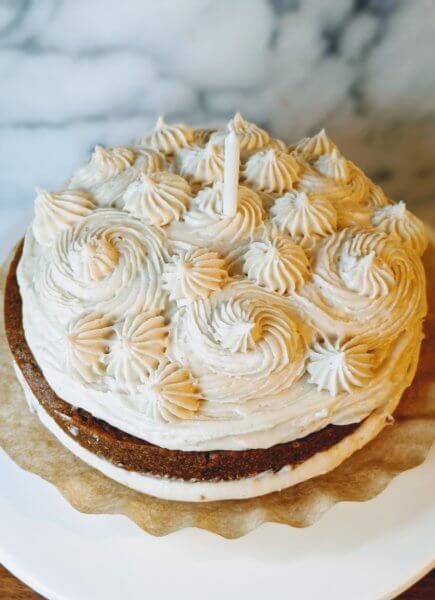 #vegan #veganrecipes #veganfoodshare #veganfoodporn #plantbased #plantbasedrecipes #plantbasedfoodshare #plantbasedfoodporn #lavenderearlgreycake