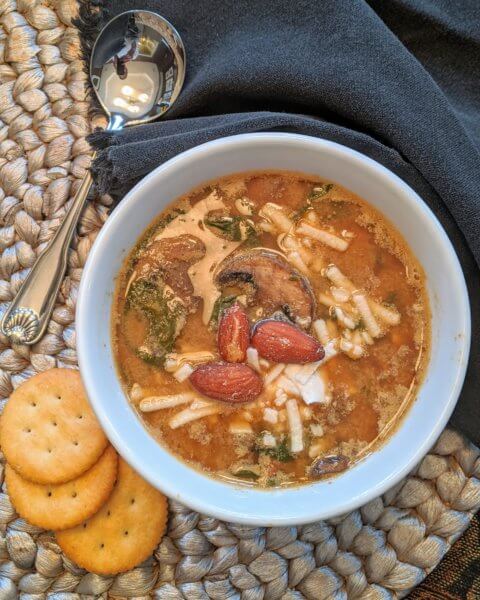 Light and Flavorful Mushroom and Spinach Soup with Cream Sherry (plant-based/vegan)
This soup will become a go-to any time, but in this age of Coronavirus "shelter in place" orders, it is especially comforting to have on hand. Low in calories and fat, but high in appeal, it nurtures with beauty, warmth, nutrition, and hydration.
(It is so pretty, in fact, that one of my students is creating an oil pastel painting of it for one of her "school closure" sketchbook assignments.)
2 teaspoons olive oil
1/4 cup each diced carrot, celery, and yellow onion
1/2 teaspoon veggie base
1/2 teaspoon roasted garlic base
(or 1 veggie bouillon cube substituted for both bases)
8 ounces sliced mushrooms like baby bella
1 bunch fresh thyme, tied with kitchen twine
4 cups veggie stock
6 big handfuls fresh baby spinach leaves (as much as you want, actually)
1/4 cup or so unsweetened non-dairy milk
2 or more tablespoons cream sherry
Sea salt and pepper to taste
Garnish: shredded vegan mozzarella and roasted or smoked almonds
Heat oil over medium high in large soup pot. Add mirepoix (carrots, celery, and onion) and veggie bases and saute, stirring frequently, two or three minutes or until tender. Add mushrooms and thyme and continue sautéing until mushrooms are tender and release juices, a couple minutes more. Add stock and bring to a simmer. Begin adding spinach, a handful at a time, stirring and allowing each to wilt before adding the next. Stir in non-dairy milk, and heat through, followed by sherry. Adjust seasoning with salt and pepper to taste. Remove and compost thyme. Serve soup topped with shredded vegan mozzarella and roasted or smoked almonds if desired.
Note: soup may appear to curdle slightly upon reheating, but stir it well and the little flecks will reincorporate. Alternatively, you can omit sherry, add let each person add his or her own.
#vegan #veganrecipes #veganfoodshare #veganfoodporn #plantbased #plantbasedrecipes #plantbasedfoodshare #plantbasedfoodporn #mushroomsoup #mushroomspinachsoup